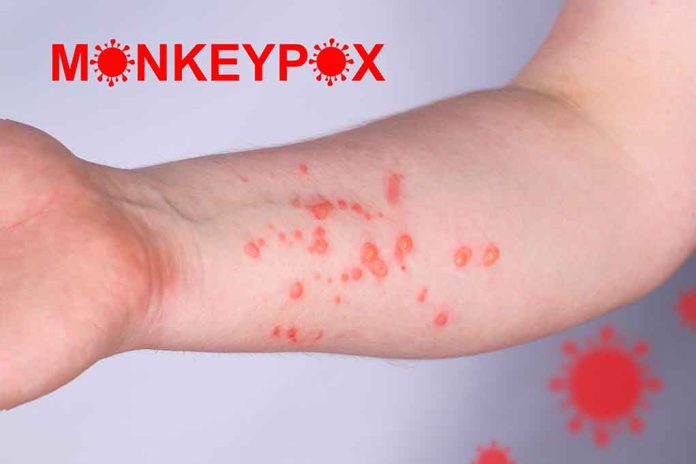 National Crisis Declared – Another Emergency Nationwide
(UnitedHeadlines.com) – When the World Health Organization declared monkeypox a global emergency on July 23, the announcement raised similar concerns to those that had accompanied the outbreak of COVID-19 nearly three years ago.
The United States government recently followed suit and pronounced monkeypox a "public health emergency," leading many Americans to fear the worst.
Government Response
According to the US Department of Health and Human Services (HHS), the Biden administration's recent declaration will strengthen and speed up the White House's response to the virus. HHS Secretary Xavier Becerra stated that stopping monkeypox from further spread is a top priority of the current administration.
President Joe Biden recently appointed Robert Fenton of the Federal Emergency Management Agency (FEMA) to direct the White House National Monkeypox Response. Fenton recently confirmed that Biden had urged his team to "explore every option" they have to combat the outbreak and protect the American people.
Likewise, he said the president and his second in command, Kamala Harris, are using a "comprehensive strategy" to fight the viral outbreak. This plan includes boosting the production and availability of vaccines, increasing the ease and volume of testing, making treatments more accessible, and reaching out to LGBTQ+ communities.
Necessary Concern?
According to a study from the University of Pennsylvania's Annenberg Public Policy Center (APPC), nearly 20% of Americans are concerned they'll become infected with monkeypox. However, at the moment, more people are worried about contracting COVID-19 than monkeypox, despite many not knowing whether the latest virus to hit American soil is more infectious.
The Centers for Disease Control and Prevention (CDC) recently explained that monkeypox spreads through close contact with infected individuals, contaminated laundry, and respiratory droplets. The CDC also warned that sexual contact has been the primary cause of its spread, impacting the LGBTQ+ community's male members particularly hard.
The CDC also noted that researchers are still trying to discover whether or not the virus can spread when a person is asymptomatic. Infection typically develops within three weeks of exposure. The illness only lasts 2-4 weeks and includes a rash, fever, chills, headache, fatigue, and muscle aches. Most people do not experience severe illness when they contract this virus.
It's important to practice good hygiene and keep away from anyone infected. If you think you have been exposed to monkeypox, you should seek immediate medical attention. You can visit the CDC's website for additional information about the signs and symptoms of the disease.
Copyright 2022, UnitedHeadlines.com