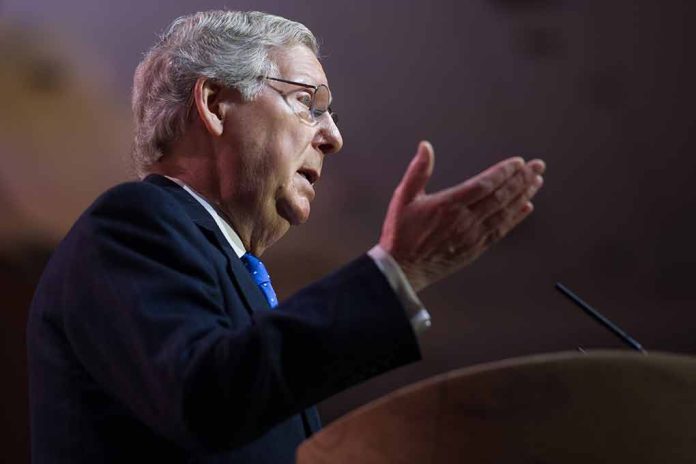 (UnitedHeadlines.com) – Senate Minority Leader and Kentucky Sen. Mitch McConnell said Democrats are interfering with the Supreme Court's judicial independence, and he's warning them to "stay out" of the Supreme Court's business.
According to McConnell, the Supreme Court is designed to be its branch of government under the Constitution. He says Congress can't dictate to the Supreme Court.
McConnell's comments come amid a report that Justice Samuel Alito accepted a 2008 luxury fishing vacation in Alaska from wealthy benefactors. The information was not included in his financial disclosures. The report alleged that Alito recused himself from a 2014 case involving the benefactors, resulting in the 7-1 Supreme Court ruling in favor of the benefactors, resulting in a $2.4 billion payout.
Alito has spoken about the report, saying he was not required to report the trip or recuse himself from the case.
Democrats have had their eyes set on the ethics of justices on the Supreme Court since it was reported Justice Clarence Thomas had received luxury business trips from a Republican donor. The information should have been included in his financial disclosures. In response, Thomas said he was unaware of the information required to be contained and would comply with new guidelines regarding gifts received by justices.
McConnell said Chief Justice John Roberts has his "full confidence" in addressing ethical issues facing the Supreme Court.
Texas Sen. John Cornyn has also denounced the continued attacks on the Supreme Court by Democrats.
Legislation on Supreme Court ethics is also expected to be introduced by Rhode Island Sen. Sheldon Whitehouse, the Subcommittee on Federal Courts, Oversight, Agency Action and Federal Rights chairman, and Illinois Sen. Dick Durbin, the Senate Judiciary Committee chairman.
On June 21, McConnell made it clear Senate Republicans would not support the measure.
The nine-member Supreme Court made up of 5 conservative justices and three liberal justices, is led by Chief Justice Roberts.
Copyright 2023, UnitedHeadlines.com