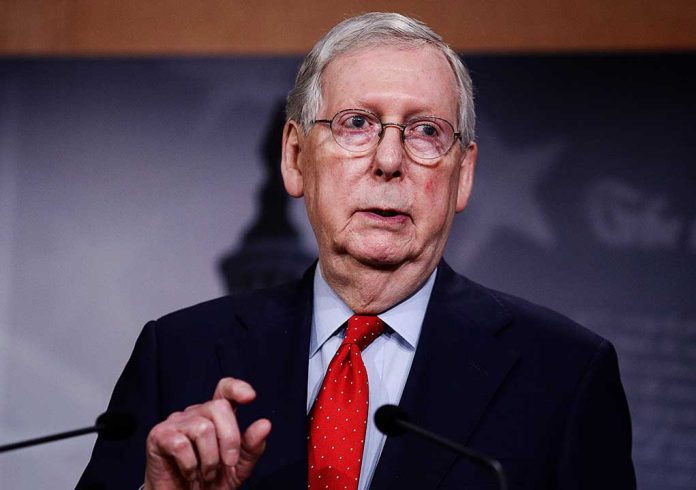 (UnitedHeadlines.com) – DC and Capitol Police officers who defended the building on January 6, 2021, met on December 6 to honor the law enforcement workers who defended Congress on that fateful day. Family members of US Capitol Police Officer Brian D. Sicknick, who died of complications following a brutal beating at the hands of rioters, moved through the line of officials hosting the event, shaking hands with everyone there — except Republican minority leaders Mitch McConnell and Kevin McCarthy.
The House and Senate had come together to award the officers Congressional Gold Medals. The Washington Post stated around 140 members of law enforcement sustained injuries during the chaos, with many reportedly too traumatized to return to the location before the ceremony.
Mitch McConnell thanks January 6 police 'for saving our country' https://t.co/ariDUjBfMx pic.twitter.com/HCZpS05NkM

— New York Post (@nypost) December 6, 2022
Sicknick's brother explained his decision to snub and embarrass the Republican minority leaders stemmed from their backpedaling over former President Donald Trump's guilt. He told Deadline, "They won't admit to wrongdoing[…] it's disgusting. It takes away everything my brother has done." Sicknick's mother held a similar sentiment, feeling that Trump's support over the event had overridden the efforts of everyone who fought for democracy that day.
The previous week, on December 1, members of the Patriot Freedom Project gathered to discuss what they believe has been an injustice against participants of the J6 riots. They played a pre-recorded video of Trump, who lauded the rioters currently in custody. The former president promised "justice for people who are in prison right now," vowing to end their alleged persecution.
Copyright 2022, UnitedHeadlines.com