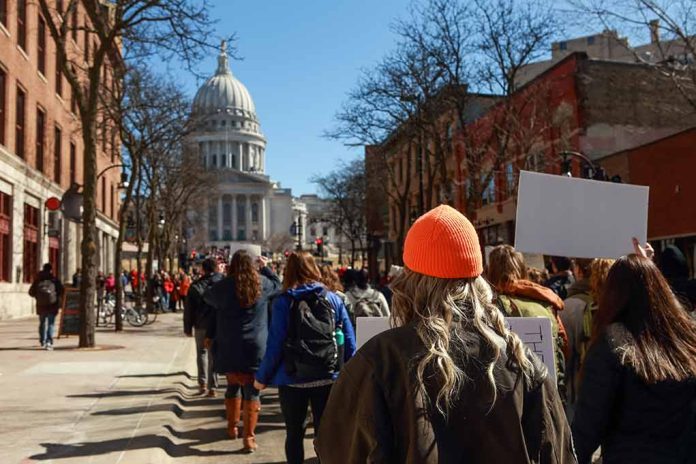 (UnitedHeadlines.com) – In response to their school deciding to hold a "Pride Month" celebration, some Burlington, Massachusetts middle school students held a protest.
The Spectrum Club, which is an LGBTQ+ club for both students and allies at Marshall Simonds Middle School, organized a "spirit day" encouraging students to wear rainbow colors on June 2. The celebration also included rainbow flags as well as stickers and posters with messages such as "Happy Pride Month" and "Why it's not ok to say 'That's so gay.'" The spirit day was approved by the school.
In response to the school-approved pride celebration, some of the students wore red, white, and blue colors to school and chanted "My pronouns are U.S.A." The students took down banners and stickers that were LGBTQ+-themed.
The student protest prompted parents to speak out, saying the school was wrong to urge students to wear rainbow colors to school if they didn't feel comfortable doing so. One parent said her daughter didn't want to hurt anyone, but she did not want "to wear that to school."
Now, the Burlington Equity Coalition co-chair Nancy Bonassera is accusing the students of "intolerance and homophobia." She called for the students to face consequences so this doesn't happen again.
Carl Foss, a former school committee member, expressed shock that "incidents like this could happen in Burlington."
The Burlington Public Schools Superintendent Eric Conti also sent a letter condemning the students who protested the Pride celebration to parents, saying "intolerance can manifest in many different ways."
Conti claims student participation in the Pride celebration was optional.
While Martha Simon, the Burlington School Committee chair, condemned the incident, she did not call for disciplinary actions against the students, saying they are eighth graders, and all students should be safe to express themselves in middle school.
Copyright 2023, UnitedHeadlines.com