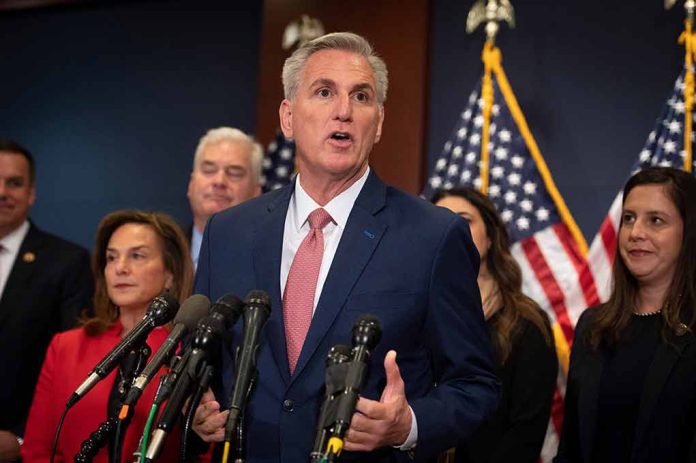 (UnitedHeadlines.com) – On Aug. 14, House Speaker and California Rep. Kevin McCarthy pitched a plan to avoid a federal shutdown on Sept. 30.
McCarthy pitched the idea of a stopgap government funding package, which is called a continuing resolution, to House Republicans. Funding approval is needed before the new fiscal year begins Oct. 1 to avoid a federal shutdown. The stopgap funding packages would extend government funding until December. The move would give the House and Senate more time to work on an annual spending bill.
So far, the House has only passed the Military Construction-VA appropriation bill, just one out of 12 bills. McCarthy stated the House will take up more appropriations bills when it returns from recess the week of Sept. 12, leaving only 17 days remaining in session before the funding deadline.
Some Republicans in the House want to see spending pulled back to the topline fiscal year 2022 level without using the unspent money from previous laws.
The Senate, which does not return until the week of Sept. 12, will have only 12 session days before the funding deadline. The Senate advanced all 12 of its appropriations bills out of committee with bipartisan votes. However, McCarthy stated that the House and Senate are still nowhere near an agreement on spending levels that would keep federal operations running.
McCarthy and Senate Majority Leader and New York Sen. Chuck Schumer discussed the stopgap government funding package already.
A large portion of House Republicans would need to be onboard with McCarthy's plan in order for the bill to pass.
Schumer stated that felt it was good McCarthy knew "he recognized that we need a CR."
Republican Rep. David Joyce said that the bill must be advanced by Republicans "because we cannot risk a government shutdown."
Passing the continuing resolution will be necessary to keep the government open.
There was no immediate word from the White House on if President Joe Biden would sign a short-term resolution.
Copyright 2023, UnitedHeadlines.com