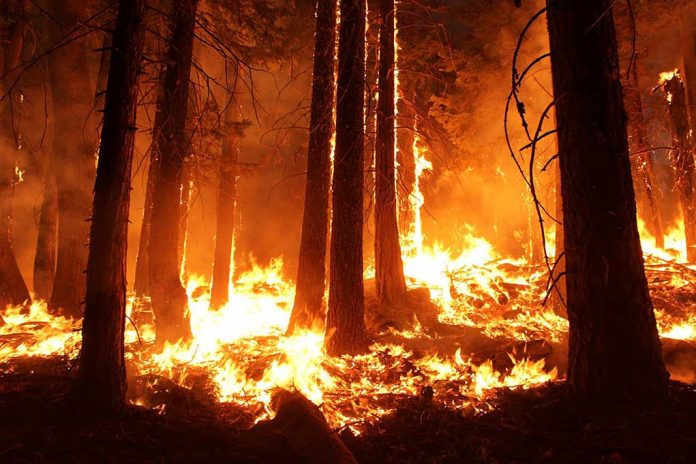 (UnitedHeadlines.com) – Wildfires continue to ravage California. Desperate to escape the blaze, residents who've never had to consider evacuation are fleeing from their homes and vacation spots. Government officials are taking preliminary precautions out of fear the fire may spread to other areas. It appears those concerns may be justified.
The Caldor fire grew by a combined 15 miles overnight: 8 miles in one direction and 7 in another. It now sits just northeast of California Highway 50.
Governor Steve Sisolak put Nevada under a state of emergency on August 30, noting that he anticipates the fire will cross into the Silver State. Communities just on the other side of the border stand by, ready to evacuate, as residents and tourists in South Lake Tahoe face their worst nightmare head-on.
Traffic is backed up as folks evacuate South Lake Tahoe right now. This is the intersection of US-50 and SR-89 in South Lake Tahoe as people are evacuating east into Nevada. #CaldorFire pic.twitter.com/HV7RPKdTQi

— Drew Tuma (@DrewTumaABC7) August 30, 2021
Several people in the area failed to take warnings seriously, waiting until the last minute to leave. One evacuee, Glen Naasz, admitted that the fire's intensity was far higher than he previously believed.
Another area resident, Ken Breslin, shrugged off his son's attempts to convince him to leave on Sunday night. He eventually got caught in bumper-to-bumper traffic not even a mile from his hometown with only a quarter tank of gas in his Ford Escape.
Jennifer Eberlien, Regional Forester of the US Forest Service, announced the closure of all national forests in California until September 17 at the earliest. She noted that the decision isn't a favorable one, but it is necessary for the public's safety.
Copyright 2021, UnitedHeadlines.com