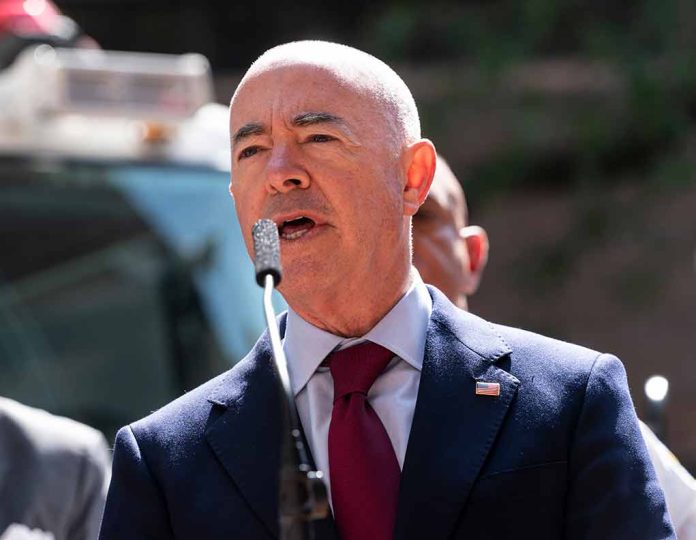 (UnitedHeadlines.com) – An April 19 Homeland Security Committee hearing resulted in Republicans barring Georgia Rep. Marjorie Taylor Greene from speaking and Democrats trying to have her words stricken from the record.
During the hearing, which featured testimony by Department of Homeland Security Secretary Alejandro Mayorkas in defense of the budget proposal submitted by the Biden administration, Mayorkas was questioned by California Rep. Eric Swalwell. During the questioning, Swalwell attacked Greene for merchandise she sold that said, "Defund the FBI." 
In response, Greene brought up Swalwell's relationship that was discovered in 2020 with Christine Fang, who has been said to be a suspected Chinese spy. It was reported that Fang had been targeting up-and-coming politicians. Swalwell's relationship with Fang caused House Speaker and California Rep. Kevin McCarthy from allowing Swalwell on the House Permanent Select Committee on Intelligence when Republicans regained control of the House in January.
The comment prompted New York Rep. Dan Goldman to request that Greene's comment be stricken from the record. He also requested she not be allowed to speak any more during the hearing. Greene refused to take back the comments and House Homeland Security Chairman and Tennessee Rep. Mark Green overruled Goldman and Greene was allowed to speak. An appeal was made by Mississippi Rep. Bennie Thompson but the appeal failed as it was determined her comments were not in violation of House rules.
Later in the hearing, Greene also referred to Mayorkas as a "liar" and accused Mayorkas of allowing fentanyl deaths to occur as a result of failing to stop the flow of fentanyl into the U.S. Thompson asked for Greene's comments to be stricken from the record. Greene refused to take back the comments and this prompted Green to bar Greene from speaking further during the hearing. The words were stricken from the record as they violated House rules against impugning the character of a person. Greene left the hearing shortly after.
Copyright 2023, UnitedHeadlines.com