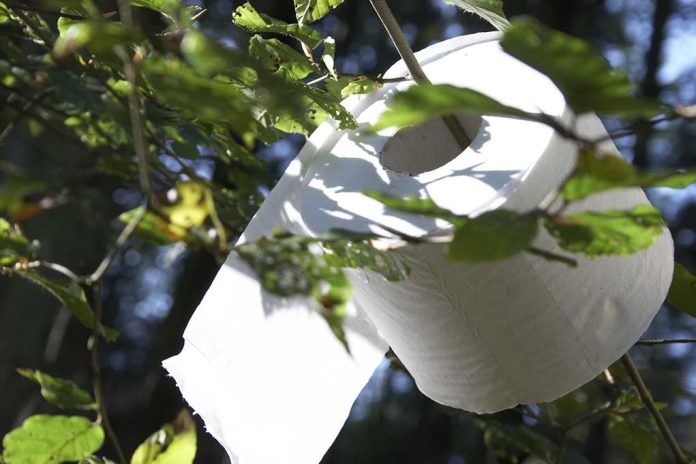 20,000 Acre Fire Was No Accident…
(UnitedHeadlines.com) – Authorities have arrested a man accused of causing the more than 20,000-acre wildfire in Arizona. A witness spotted the suspect rapidly driving away from one of the fires raging in the Coconino National Forest. The man admitted to authorities that he had been burning his toilet paper after relieving himself in the woods.
The Pipeline Fire sparked just a few miles from Flagstaff, and court documents reveal it may have been caused by a man who lit his toilet paper on fire after defecating in the forest. https://t.co/ksruvqaWIZ

— FOX 10 Phoenix (@FOX10Phoenix) June 15, 2022
Court documents indicate that authorities stopped 57-year-old Matthew Riser after a witness claimed they saw him leave the scene of what's now the Pipeline Fire. Fox10 reported the fire has spread to 24,815 acres, with firefighters only having it 27% contained at the time of this publication. Riser admitted to placing burning toilet paper under a rock, believing it would just fizzle out.
NEW: Court docs say Matthew Riser is homeless and had been camping in the Coconino National Forest. Riser said he burned his "shit paper" the afternoon prior to Sunday's #PipelineFire. He didn't think it would smolder all night. #fox10phoenix https://t.co/GV8WA0Im7U pic.twitter.com/79YJJ7DHJ3

— ᴊᴜꜱᴛɪɴ ʟᴜᴍ | 林俊豪 (@jlumfox10) June 13, 2022
Riser told authorities that he had not seen the "no campfires" signs until he was already leaving the park. He explained he had camped a few nights at the park because he's homeless and travels. Riser also showed authorities where he had camped, roughly 80 yards from where the Pipeline Fire started.
This story goes to show that whenever people go camping, they need to be sure to leave no trace of their stay behind, taking out what they put into the environment. This rule is especially true when it comes to fires — always ensure the flame is completely extinguished before leaving a campsite. Or, perhaps, don't burn items in restricted areas.
Copyright 2022, UnitedHeadlines.com