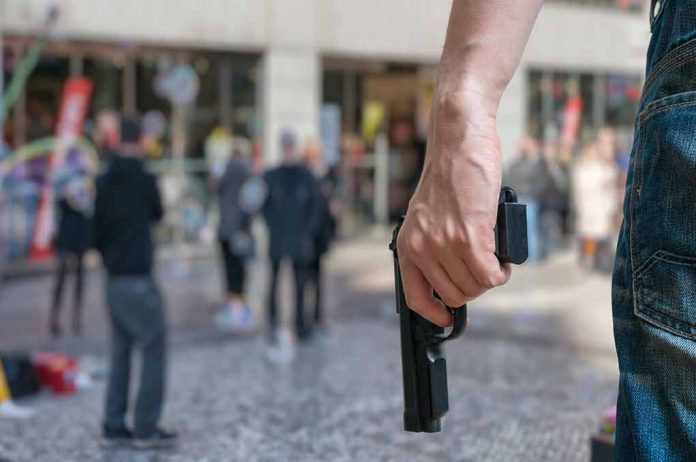 (UnitedHeadlines.com) – On Sept. 15, an armed man was arrested at an event where Robert F. Kennedy Jr., a 2024 Democratic presidential candidate, was scheduled to speak.
In celebration of National Hispanic Heritage Month, Kennedy was scheduled to speak at the event at the Wilshire Ebell Theatre. The event was scheduled to begin at 4 p.m. and as Kennedy was scheduled to speak later, he had not yet arrived at the event.
Around 4:30 p.m. the Los Angeles Police Department received a call of a man claiming "to be a U.S. Marshal" located in front of the Wilshire Ebell Theatre. However, the security staff did not recognize him. The call said the man had a badge, gun, extra ammunition as well as a shoulder holster.
According to the LAPD, Adrian Paul Aispuro, 44, is accused of posing as a federal marshal. He was arrested at 4:40 p.m. and then charged with carrying a concealed firearm. Aispuro is currently being held on $35,000 bail. His brother, Raymond, said the whole thing was a misunderstanding. He stated his brother had been told there was a security job available for him there as he is currently an unemployed Emergency Medical Technician.
On Twitter, Kennedy posted a picture of Aispuro in a black shirt with a white symbol that said, "Emergency Medical Services." Kennedy also thanked the security firm guarding him, Gavin de Becker and Associates as well as LAPD for ensuring his safety.
The Department of Homeland Security denied Kennedy's request for Secret Service protection in July. At the time, Kennedy wrote on Twitter that since his father's assassination in 1968 presidential candidates "are provided Secret Service protection." After the assassination of one of Ecuador's presidential candidates Fernando Villavicenci in August Kennedy again asked for Secret Service protection.
After the latest incident, Kennedy wrote on Twitter that he is "still entertaining a hope that President Biden" will allow him to have Secret Service protection.
Copyright 2023, UnitedHeadlines.com