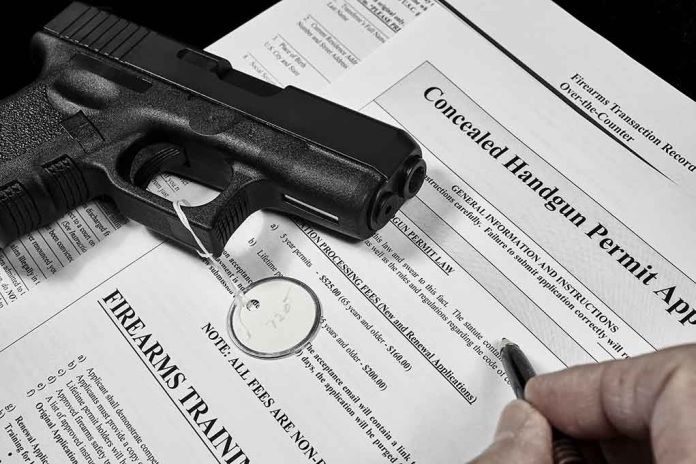 (UnitedHeadlines.com) – Legislation has been proposed by New York state Sen. George Borello and New York state Assemblyman Joseph Giglio that would allow judges who have pistol permits to carry firearms in courtrooms.
Judges had been allowed to carry firearms in the courtroom until June 2022, when New York lawmakers passed the Conceal Carry Improvement Act. The bill included designating courtrooms as "sensitive locations," meaning firearms are prohibited on the premises.
The 2022 law was written after the New York law that required those in New York to show a need to carry a firearm outside the home was invalidated by the U.S. Supreme Court. Lawsuits have been filed in response to some of the requirements in the 2022 law, including lawsuits that seek to have some of the places designated as "sensitive locations" removed. Times Square, schools, entertainment venues as well and playgrounds are among the places listed as "sensitive locations" in the bill.
The two lawmakers stated that judges, especially those in rural courtrooms that have less security, should be able to defend themselves as well as others in the courtroom. According to Borello, some judges have raised concerns regarding the amount of time it could take for police to respond to an incident in a rural courtroom.
Both Borello and Giglio underscored the disparity in security for rural and city courtrooms.
External law enforcement is currently the only exception for carrying guns in courtrooms even though New York state court officers are trained and permitted to carry firearms, according to the Office of Court Administration.
The proposed bill, S7633, has been referred to the Senate Rules Committee. In order to become law, the proposed bill must first pass through the committee and then receive approval from a floor vote in both legislative chambers. A supermajority in both chambers is currently held by Democrats.
In January, the New York Legislature is scheduled to reconvene for its usual legislative session in Albany.
Copyright 2023, UnitedHeadlines.com