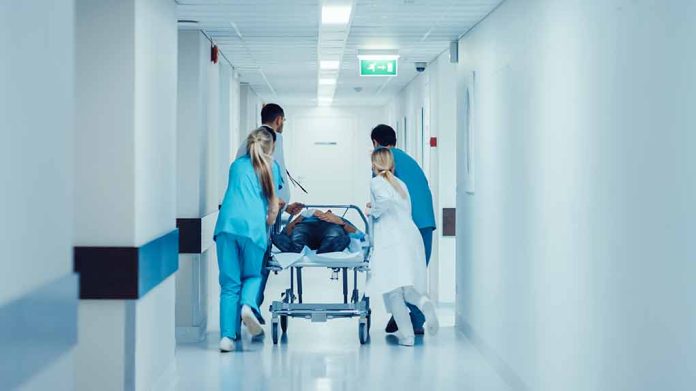 (UnitedHeadlines.com) – On July 24, LeBron James' oldest son, Bronny James, was rushed to the hospital after collapsing during basketball practice.
The call to 911 came in from the Galen Center at 9:26 a.m. July 24, with Bronny James being taken to Cedar Sinai Hospital. When the call was made to 911 Bronny James was unconscious.
His family stated that Bronny James, 18, is now stable after his heart stopped. He was practicing at the University of Southern California, which he will be attending this fall.
A McDonald's All-American, Bronny James' decision to attend USC was extensively discussed as he is seen as one of the best players to come out of Sierra Canyon School, located in Los Angeles. During his senior year, the 6-foot-3, 180-pound point guard averaged 14.2 points, 2.4 assists, 1.8 steals as well as 5.5 rebounds each game. He ranked number 20 in ESPN's Class of 2023.
His father, LeBron James, 38, has stated he would like to still be playing in the NBA long enough to play with his son, Bronny James, who was expected to be a top pick in the 2024 NBA draft. In 2022, LeBron James stated his last year in the NBA will be the year he gets to play with his son.
Many, including former Lakers players Magic Johson, took to social media to send their well wishes for Bronny James.
Bronny James is not the only young athlete to suffer cardiac arrest. In January, Buffalo Bills safety Damar Hamlin, 24, collapsed on the football field during a game against the Cincinnati Bengals.
An 18-year-old basketball player, Cartier Woods, died earlier this year after suffering a cardiac arrest during a high school basketball game in Detroit.
In July 2022, Vincent Iwuchukwu passed out on the USC practice floor after suffering a cardiac arrest. The incident left him unable to play until January of this year.
Copyright 2023, UnitedHeadlines.com