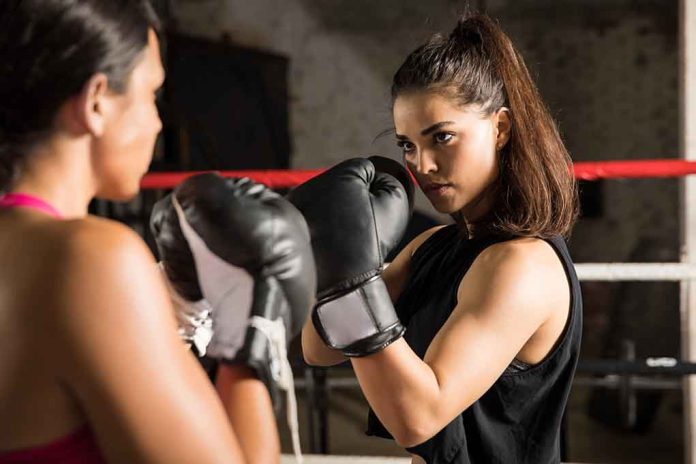 (UnitedHeadlines.com) – After a year of isolation thanks to the pandemic, many people want to get out and try new things. Unfortunately, for some, getting out is a lot easier said than done. With a sharp rise in domestic abuse, coupled with skyrocketing crime rates across the globe, many women have decided that learning to fight is in their best interest.
In London, women are joining fighting and self-defense classes in droves. These women come from several different walks of life, but all have the same goal in mind: to protect themselves and not feel helpless. To empower themselves, these women are participating in boxing, mixed martial arts and Krav Maga classes that teach them how to defend themselves.
While it's good to know self-defense techniques, these classes and gyms still teach women that sometimes the best thing to do is simply hand over any valuables an attacker may want. In some cases, however, an assailant isn't looking to steal anything. Instead, they're assaulting women.
According to the New York Times, 26-year-old Jia Li joined her Krav Maga class because a man had physically harassed her. Li asserted that when danger lurks, women aren't helpless and can fight back in a number of ways.
Gaining Popularity
Women in Britain were turning to combat sports even before the pandemic hit as a way to become physically fit while also providing themselves with protection. A surge of high-profile cases of violence against women had started the trend. After the pandemic forced people into isolation and loneliness, gyms around Britain saw a surge in women interested in their combat sport and self-defense classes.
Fightzone London noted that after it reopened this year, the number of women interested in classes doubled from 2019. In South London, Miguel's Boxing and Fitness Gym reported that around 70% of its members are women. The South London gym mentioned that it had added several classes throughout the week due to the high demand.
Not Just the United Kingdom
It's not just women in the UK who are in danger of becoming victims of violence. Women around the world deal with regular assault and harassment. With the surge of crime following the onset of the pandemic making matters worse, it's important that women everywhere learn to defend themselves.
Li noted that it's unfair for women to have to learn self-defense as the responsibility should be on the shoulders of men not to be predators. It's unfortunate that the responsibility falls on women to stop many predators, but learning how to fight can be a good start.
Copyright 2021, UnitedHeadlines.com