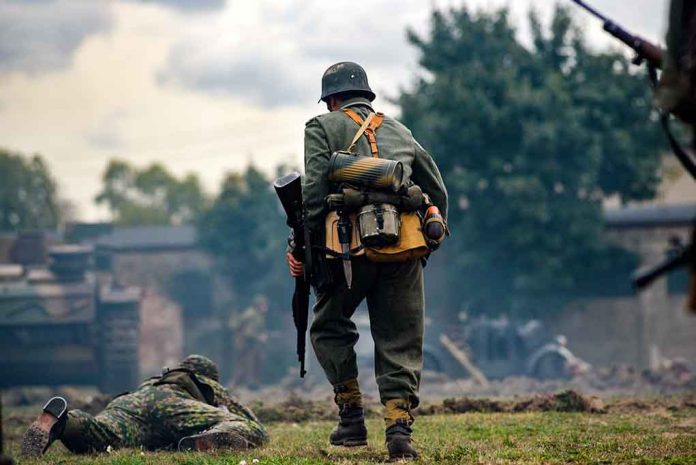 (UnitedHeadlines.com) – Edward Shames became a household name when HBO released the miniseries "Band of Brothers," a depiction of WWII featuring the valiant efforts of the Easy Company. The war hero's friends and family now mourn along with the nation as they lay to rest another American legend.
Shames started his military career at 19 years old, back in 1942, when he jumped from an airplane to join in the D-Day battle. Along with the Easy Company, a group of soldiers who belonged to the 2nd battalion of the 506th Infantry Regiment in the 101st Airborne Division of the US Army, the hero fought in Operation Market Garden and the Battle of the Bulge.
Later, the group breached Hitler's "Eagle's Nest." According to the reports, Shames snagged a bottle of cognac from the iconic location, which, years later, he would serve at his son's bar mitzvah.
WWII veteran – and last surviving officer of "Easy Company" – Edward Shames passed away last week. We're forever grateful to servicemembers like the Band of Brothers, and will always honor their legacies.https://t.co/6BtP4wEpef

— Kyrsten Sinema (@kyrstensinema) December 10, 2021
Earning a reputation for being tough and mean, Shames also was a man who got the job done. He kept his men safe through horrors no human should have to witness, through concentration camps and front lines and unspeakable carnage, and then celebrated their victory by drinking from Hitler's stock of champagne in the Fuehrer's private retreat.
Shames passed away at 99 years old, leaving behind two sons, four grandchildren and twelve great-grandchildren. His legacy will live on through them as well as the moment in history this gallant American helped to shape.
Copyright 2022, UnitedHeadlines.com