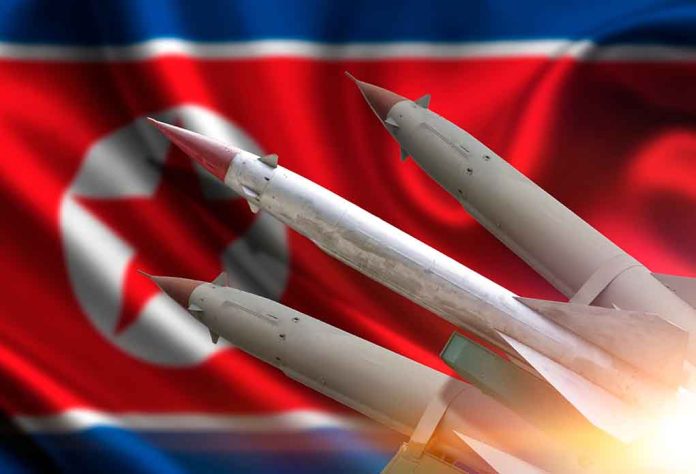 Recently Fired ICBM Could Have Reached US, Say Japanese Officials
(UnitedHeadlines.com) – North Korea is rattling its sabers once again — but this time, its overt weapons testing appears to involve a long-range intercontinental ballistic missile (ICBM) system capable of reaching the United States. Japanese officials are monitoring the tests with caution, while military leaders in the US and allied countries are responding to the reckless action by increasing their presence in the region and conducting joint drills.
Launched on November 18, the ICBM prototype landed in the sea inside Japan's economic zone, a span of water that encompasses the allied nation and a handful of nearby island regions. The BBC reported that the projectile flew a total of 621 miles, reaching a maximum speed of Mach 22 and a top altitude of about 3,790 miles. The news source added that Japan's defense minister, Yasukazu Hamada, believes a different trajectory could allow a similar missile to travel up to 9320 miles. For reference, the distance between North Korea and the United States West Coast is only about 2047 miles.
North Korea test-fires ICBM with range to strike entire US, experts say https://t.co/DVDU2Lvvxv pic.twitter.com/iAiFmrdA69

— New York Post (@nypost) November 18, 2022
Hamada publicly condemned the launch. A representative from South Korea's presidential office took a similar stance, telling NBC News, "the international sanctions against North Korea will only strengthen."
The United States military conducted separate air force drills with Japanese and South Korean pilots to strengthen their regional presence. US officials are working with both foreign countries to keep tabs on Pyongyang's next moves, but such actions only appear to stoke the fire. North Korea's foreign minister, Choe Son Hui, reportedly said increased military activity on their enemies' part would lead to even "fiercer" moves.
Copyright 2022, UnitedHeadlines.com