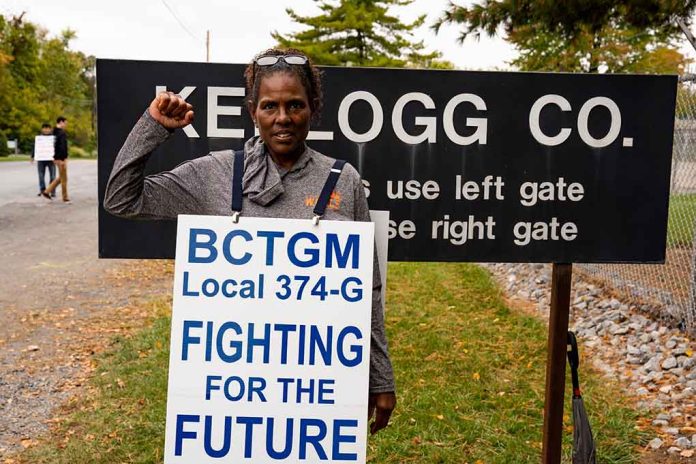 (UnitedHeadlines.com) – Kellogg's has been battling with a union representing 1,400 workers for months now. The company has taken a hit to its cereal production as the workers went on strike to express their dismay. It appears that the battling parties may have finally come to an understanding.
After a nearly three-month strike from employees, Kellogg's seems to have finally found the right recipe to get them back to work. The most significant issue motivating the strike was the company's two-tier benefits system. The structure dictated that "legacy" employees would receive more pay than those hired after 2015.
The Kellogg's strike is finally over.

After nearly 3 months, the union representing 1,400 striking cereal plant workers has ratified a deal to end the stoppage.https://t.co/tPkgMfp5hf

— NPR (@NPR) December 21, 2021
On October 5, workers walked off the job after negotiations of a new contract halted. Since then, Kellogg's has threatened to replace the striking employees at its four facilities in Nebraska, Michigan, Pennsylvania, and Tennessee. However, the union workers stood strong, at risk of losing their jobs, and ultimately won the standoff.
In a statement from Kellogg's, the company announced that the two negotiating parties reached an agreement to increase wages immediately across the board and to offer better benefits moving forward. The union noted that it was also able to successfully mediate a clear path for permanent employment for part-time workers, increase the pension multiplier, and secure a pledge of no plant shutdowns through October 2026.
The agreement is a happy ending for both the company that looks forward to getting everyone back to work and the employees who wanted better wages, benefits, and a fair, safe work environment. CEO of Kellogg's, Steve Cahillane, was certainly pleased to hear the news. He expressed his delight concerning the new agreement and his excitement to not only get the employees back to work, but to get the cereals Americans love back on their tables.
Copyright 2021, UnitedHeadlines.com