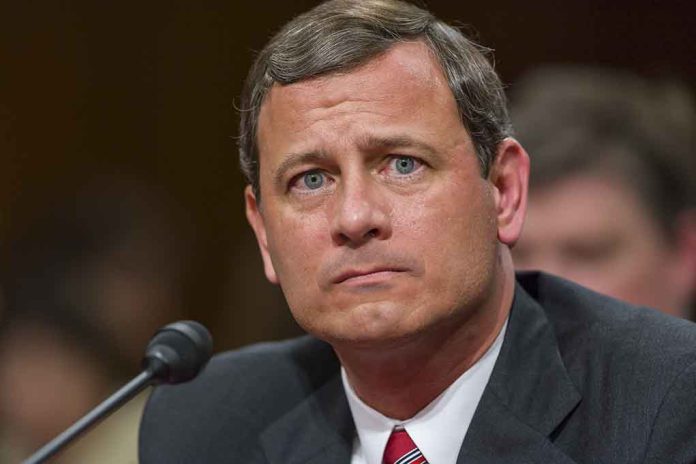 Justice Roberts Does Something Historic – Justice Breyer Takes Notice
(UnitedHeadlines.com) – As many people know, Supreme Court Justice Stephen Breyer is set to retire from the high court. Breyer has been a member there for three decades, and he won't be easy to replace. The justice, in what was likely his final argument, debated with John Roberts, who finished with a tribute to Breyer.
Chief Justice John Roberts, eliciting laughter in the courtroom during an emotional tribute to retiring Justice Stephen Breyer about the range of hypotheticals that come up at SCOTUS arguments.

Here's your Daily Docket: https://t.co/vz74V8JRiH

Subscribe: https://t.co/gzXMj7Mm0M pic.twitter.com/Lp7MU5PSnG

— Reuters Legal (@ReutersLegal) April 28, 2022
The two justices argued over an issue regarding Native American territory, debating what Congress meant roughly 200 years ago when it passed a law concerning the territories and crimes committed on them. Roberts eventually closed the debate with a heartfelt offering of respect for Breyer.
Justice Roberts expressed his appreciation for Breyer and the opportunity to work with him throughout the years. He mentioned how "challenging and insightful" Breyer was with his questions alongside his "profound and moving" remarks.
The tribute to Justice Breyer just goes to show the respect his colleagues had for him. He's set to retire at the end of the high court's term this summer, at which point Ketanji Brown Jackson will replace him. The judge still has plenty of work ahead of him though. The court is heading into its busiest time, creating opinions on the cases they've debated in 2021 and so far this year.
The high court has concluded its arguments for this term, and there's no indication as to whether or not the justices will return to read their opinions, meaning this may be the last time Breyer will have taken a seat on the Supreme Court bench.
Copyright 2022, UnitedHeadlines.com