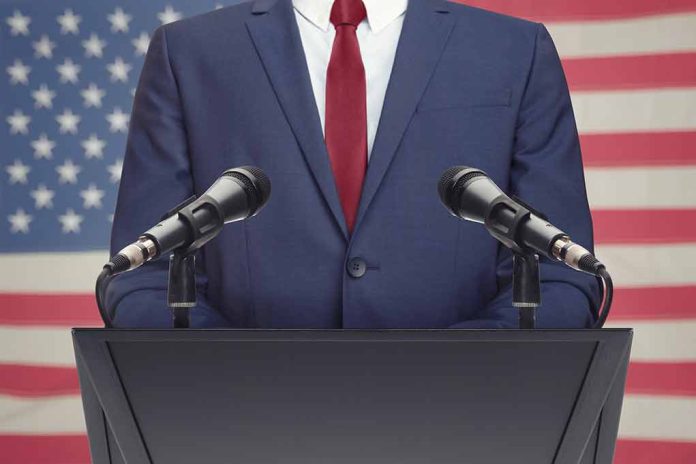 (UnitedHeadlines.com) – Jim Marchant, a Republican, announced on May 2 that he is running for the Senate against incumbent Jacky Rosen, a Democrat, in the state of Nevada.
In his tweet announcing his campaign, Marchant said that the state of Nevada wants an "America First agenda in Washington." Marchant is an outspoken supporter of former President Donald Trump.
In 2020, Marchant ran unsuccessfully for the House. In 2022, he ran unsuccessfully for secretary of state. Marchant served one term in the Nevada Assembly.
He is the first prominent Republican to enter the race challenging Rosen. Sam Brown is seen as another potential candidate. Brown is an Army veteran as well as a Purple Heart recipient. Brown lost in Nevada's 2022 Republican Senate primary.
In 2018, Rosen won against incumbent Sen. Dean Heller, a Republican, by 5 points. Rosen is seeking a second term.
According to the Federal Election Commission, Republicans Rhonda Kennedy and Stephanie Phillips, and Bradley Scott Wing, an independent, have submitted their names to potentially run.
As of March 31, Rosen has raised more than $10 million and has $6 million to spend on the Senate campaign, according to federal campaign financial reports. Marchant is not listed yet.
The Nevada Senate race is expected to be one of the most competitive in the election cycle, as it was in the 2022 midterm election. In 2022, Sen. Catherine Cortez Masto, a Democrat, won by fewer than 10,000 votes against Adam Laxalt.
In 2024, Democrats are trying to hold on to the Senate, where they currently have a one-seat majority. Republicans will be defending 10 seats in 2024, all in Republican states. Besides Nevada, Democrats have seats up for reelection in the swing states of Wisconsin, Arizona, Virginia, Michigan, and Pennsylvania, as well as three more seats up for re-election in Montana, Ohio, and West Virginia, which are all states Trump won in 2020.
Copyright 2023, UnitedHeadlines.com