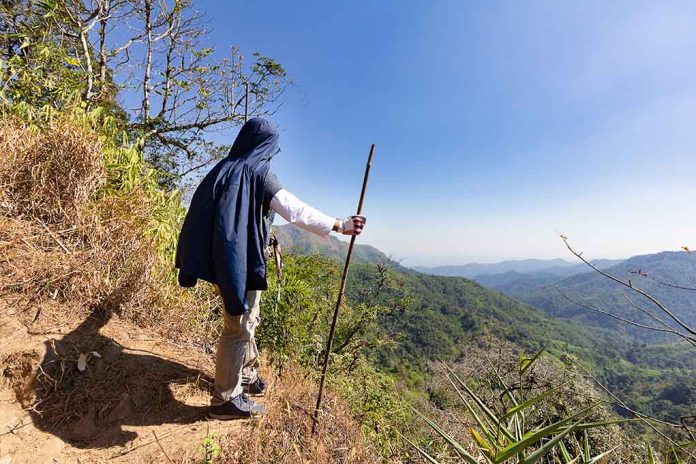 "Invisible Ukrainian" Spotted – History Will Remember This
(UnitedHeadlines.com) – The war in Ukraine rages on, nearing its third month since Russia launched the attack. Facing threats to his home and life, a man set off on a journey to safety, turning what he thought would be a 12-mile trip into nearly 140 miles. His inspirational story is suspenseful but shows his tenacity through many dangers.
Setting Off
Igor Pedin, 61, decided it was best to leave his home in the war-torn city of Mariupol, Ukraine, after Russian forces began going door to door and shooting people at their own discretion. He decided on April 20, telling The Guardian there wasn't much to stay for anyway because there wasn't any more food or water.
He packed his bag, noting it weighed around 154 pounds, and challenged himself to reduce it to 110 pounds. During the morning hours of April 23, Pedin set off for the city of Zaporizhzhia with his heavy bag and his 9-year-old mixed-breed terrier named Zhu-Zhu.
An Impossible Feat
Pedin told The Guardian his initial goal was Mariupol's outskirts, a little over three miles from his home. Still, he thought even that would be difficult enough or impossible. He described the sheer destruction he passed on his way to his goal, the bodies in the streets. Pedin recalled looking back at his home city and assuring himself he'd made the right decision. A sudden explosion prompted him on his journey.
Pedin had walked by burnt-out military vehicles, hearing nothing but the sound of shells exploding in the distance. He described how a convoy of armored vehicles passed him as he crouched and hid, Zhu-Zhu in his jacket, the ground trembling under his feet. Pedin declared himself to be an invisible man at that point.
A Story Worth Hearing
The 61-year-old chose Nikolske, a town nearly 12.5 miles away, as his new target. Pedin recalled running into a man who invited him to drink with him just as he arrived. The traveler said the man wanted to drink to his 16-year-old son who'd been decapitated by shrapnel. The bereaved father told Pedin he went to retrieve his son's body, where Russian soldiers told him he'd have to dig it up with his hands.
Pedin knew the only way to his destination was through the town where he ran into Chechens. They took him to a building where a Russian officer asked him what he was doing and where he was going, threatening possible assault. Eventually, the officer sent him on his way with papers from the self-proclaimed Donetsk People's Republic. Pedin had to wait for another vehicle to transport him to Rozivka. He talked with Chechens, who gave him cigarettes, at a checkpoint.
He passed another checkpoint with ease, thanks to his new documents. In the town of Verzhyna, soldiers told him to follow them to the House of Culture, their headquarters. They fed him and gave him a place to sleep until morning but told him they would shoot him if he attempted to leave before then. He walked for 14 hours before hitting another checkpoint, where soldiers searched him again. He stayed in an abandoned house until the following morning.
Pedin faced his greatest obstacle, a destroyed bridge, that day. The bridge was nearly 100 feet above some railroad tracks, and nothing but the steel frame remained. He decided to cross anyway, ensuring its safety before taking his bag across. He returned for Zhu-Zhu, crossing the bridge a third time.
Soldiers at the next checkpoint told Pedin he could sleep in half a van. He recalled several of them gathering around him to hear the story of his journey so far. The next day Russian forces forbade him from traveling to Zaporizhzhia, giving him the option to travel back south or to the city of Tokmak. He chose the city.
More Obstacles Ahead
Pedin and Zhu-Zhu encountered two large hills, but the dog couldn't climb the first one. So, he carried his bag to the top, went back down, and carried the dog to the top before telling Zhu-Zhu both he and the dog would die if they didn't walk. The dog walked up the next hill. Fortunately, Pedin ran into a man who gave him directions to Zaporizhzhia via smuggler routes.
He did as the man said but came to a crossroads and didn't know which way to go. Thankfully, a truck passed by and gave him a ride. After about two hours, Pedin arrived in Zaporizhzhia, and the driver gave him money, about $37. Once in the city, he found a tent for refugees, where people rejoiced that he had made it from Mariupol, astonished by the fact he walked nearly the entire way.
Igor Pedin walked 140 miles with a bag weighing over 100 pounds, a dog, and through a horrific battleground. Many people would say his story is miraculous.
Copyright 2022, UnitedHeadlines.com