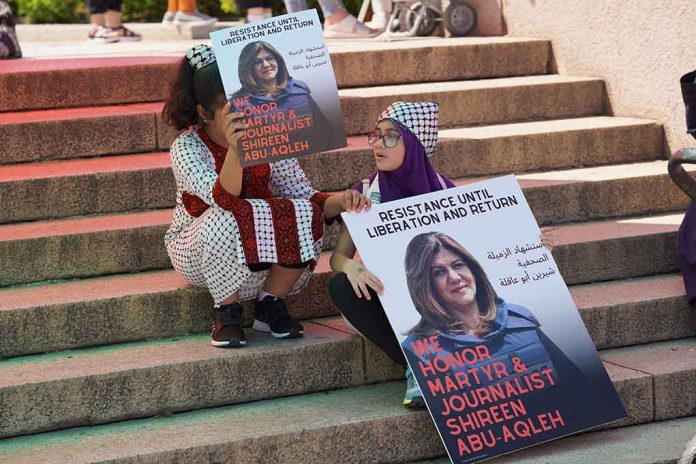 Journalist Dead – Government Reportedly Involved!
(UnitedHeadlines.com) – The death of a well-known human rights journalist in Israel's West Bank on May 11 continues to send shockwaves across the world. Shireen Abu Akleh, who spent nearly 25 years documenting violations and abuses within the Middle East for Al-Jazeera, suffered a fatal gunshot wound while reporting on a recent raid at a refugee camp near Jenin. Israel and Palestine now remain deadlocked over which country is responsible for the journalist's death.
Israel initially blamed the murder on Palestine, suggesting an unknown armed assailant from the region took Akleh's life. Witnesses from Palestine disagreed; they allegedly pointed the finger at Israel Defense Forces soldiers instead.
Both countries launched investigations into the matter. Ongoing disputes about responsibility, and rumors that Israel's police force may be behind the killing, have also convinced a number of key human rights organizations to get involved.
With Israel and Palestine clashing over the investigation of Al Jazeera journalist Shireen Abu Akleh's death, several research and human rights groups have launched their own investigations.https://t.co/W4kgmrHmDe

— Stars and Stripes (@starsandstripes) May 15, 2022
This includes Dutch research outfit Bellingcat, which undertook its own independent inquiry into the matter. It reviewed multiple pieces of evidence sourced from military forces, social media platforms, and individual witnesses, including waveform analysis of a sound recording captured during the incident. Experts concluded that Israel's forces were in the correct position to clear the shot, while local armed groups were not.
Israeli officials have declined to accept responsibility for the shooting but acknowledge the need for further investigation. Al-Jazeera already seems certain; it accused "Israeli occupation forces" of murdering Akleh in a May 11 tweet.
"It's extremely rare that Israeli soldiers… are ever held accountable for their actions."

Israeli occupation forces have killed veteran Al Jazeera journalist Shireen Abu Akleh in the occupied West Bank. She was shot while covering Israeli raids on the Jenin refugee camp ⤵️ pic.twitter.com/u2Tp2aKPTv

— Al Jazeera English (@AJEnglish) May 11, 2022
Israel's military investigation continues and will likely become a focal point, but some question whether officials will be transparent about what they find. Notably, the International Criminal Court launched a separate war crimes investigation into Israel over its occupation of the West Bank and Gaza Strip back in March.
Copyright 2022, UnitedHeadlines.com