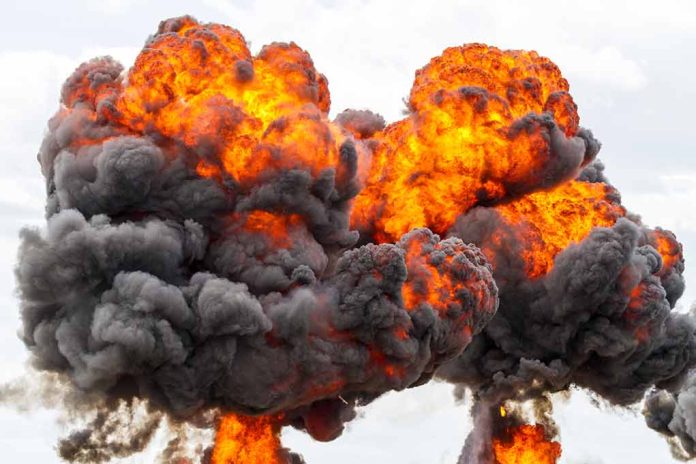 (UnitedHeadlines.com) – A tanker truck fire caused part of Interstate 95 in Philadelphia, Pennsylvania to collapse on June 11. The section of the highway has been closed indefinitely.
The tanker truck, which was said to be carrying gasoline, caught fire under the overpass near Cottman Avenue and State Road exit around 6:30 a.m. June 11. The fire, which shut down traffic in both northbound and southbound lanes of Interstate 95, caused a portion of the road to collapse. According to Pennsylvania State Transportation Department spokesman Brad Rudolph the section of road, part of a $212 million reconstruction project that was completed four years ago, collapsed quickly, according to Rudolph.
Video from the scene shows flames shooting up from the road and thick black smoke in the sky. There were also reports of manhole covers exploding.
According to a report from the Coast Guard, the tanker truck was carrying about 8,500 gallons of gasoline, some of which is believed to have leaked into the Delaware River. An absorbent boom was deployed by the Coast Guard to contain the fuel.
It was reported that the spill was contained and there was no threat to the drinking water.
On June 12, officials recovered a body at the scene, which was identified by a cousin as truck driver Nathan Moody, 53, from Merchantville, New Jersey. Moody was a father to three children.
According to Pennsylvania Gov. Josh Shapiro, the collapsed northbound section of the highway as well as the southbound side, which is not structurally sound, are being demolished. Both directions of Interstate 95 from Academy Road Exit 32 to Aramingo Avenue Exit 26 remain closed while work is underway.
According to federal transportation records, about 160,000 vehicles on average travel this roadway daily. A team from the National Transportation Safety Board was sent to the scene to investigate the fire and resulting collapse.
Copyright 2023, UnitedHeadlines.com