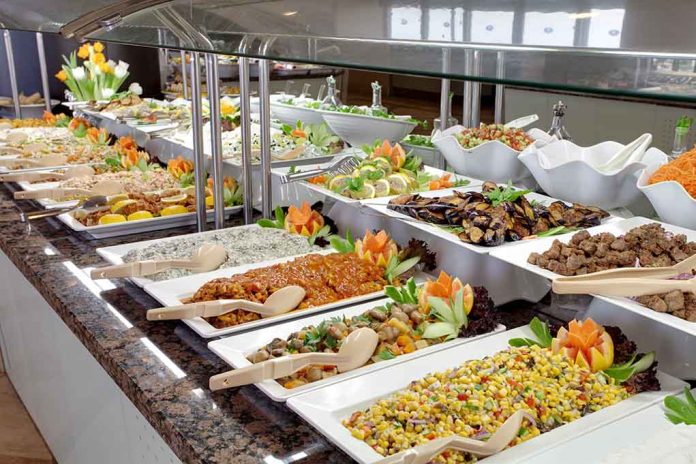 (UnitedHeadlines.com) – Restaurants often use marketing ploys to bring in new customers, but sometimes those ploys backfire. From loopholes in specials and discounts to all-you-can-eat buffets that don't account for extremes, everyone is trying to get a bang for their buck. Sometimes, owners have to go to bizarre extremes.
That appears to be the case for a man known as Mr. Kang. The owner of Handadi Seafood BBQ Buffet in China has banned Kang from eating in his restaurant, claiming the customer costs more money than he's worth. Kang, on the other hand, finds the business owner's actions discriminatory.
A restaurant deal in Hunan
Said fill up as much as you can,
Till Kang, one fine day,
Cleaned out the buffet,
And landed a permanent ban.https://t.co/dfOGq57jGF

— Mick Twister (@twitmericks) November 18, 2021
The business owner explained that every time Mr. Kang comes into the restaurant, he eats around 1.5 kg (3.3 lbs) of pork or 4 kg (8.8 lbs) of prawns. Now that's a lot of food, especially when restaurants around the world are dealing with supply chain issues. The only reason restaurants can run these types of settings in the first place is because they count on the mass quantities of cheap starches, combined with what the average person eats to balance out into a profit.
On the other hand, Kang finds it unfair as it's not his fault that he can eat a lot. The owner added that Kang doesn't only eat a lot, but he drinks as many as 20-30 bottles of soy milk as well.
The story is trending on Chinese social media, where some are criticizing the restaurant owner, claiming that he shouldn't advertise all-you-can-eat if he can't afford it.
Copyright 2021, UnitedHeadlines.com