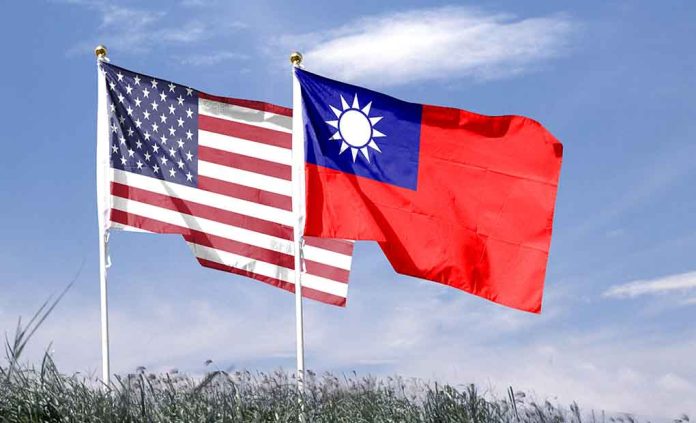 (UnitedHeadlines.com) – House Speaker Kevin McCarthy and Taiwan President Tsai Ing-wen, along with a group of lawmakers, met April 5 in the Ronald Reagan Presidential Library in California. The meeting highlighted the ties between the U.S. and Taiwan. 
The bipartisan meeting included California Rep. Pete Aguilar, a member of the Democratic leadership, and Rep. Mike Gallagher, a Republican, as well as other lawmakers. Gallagher is the chairman of the House select committee on China. One of McCarthy's top priorities in the House select committee on China.
Michael McCaul, chairman of the House Foreign Affairs, also led a bipartisan delegation to Taiwan where they met business leaders and government officials.
During the last week of March, Tsai stopped in New York, meeting with House Democratic leader Hakeem Jeffries, as well as Republican Sen. Joni Ernst, Republican Sen. Dan Sullivan and Democratic Sen. Mark Kelly.
The meeting between McCarthy and Tsai comes at a time when the relationship between the U.S. and China is increasingly tense over the status of Taiwan, as well China's close ties with Russia. In response to the meeting, China proceeded to conduct military exercises April 5, which included an aircraft carrier sailing near the coast of Taiwan.
The meeting with McCarthy is part of a 10-day trip for Tsai and her delegation, shoring up relationships with allies with visits to Guatemala and Belize amid rising pressure from Beijing. 
This was the first meeting held on American soil between a Taiwan president and a U.S. House speaker since at least 1979, when formal relations with Taiwan were broken off. In August 2022, Tsai met with Nancy Pelosi, who was House Speaker at the time, in Taiwan. During Pelosi's visit to Taiwan, China also staged military exercises which included the firing of ballistic missiles. There have been no official relations between China and Taiwan for 74 years.
Copyright 2023, UnitedHeadlines.com