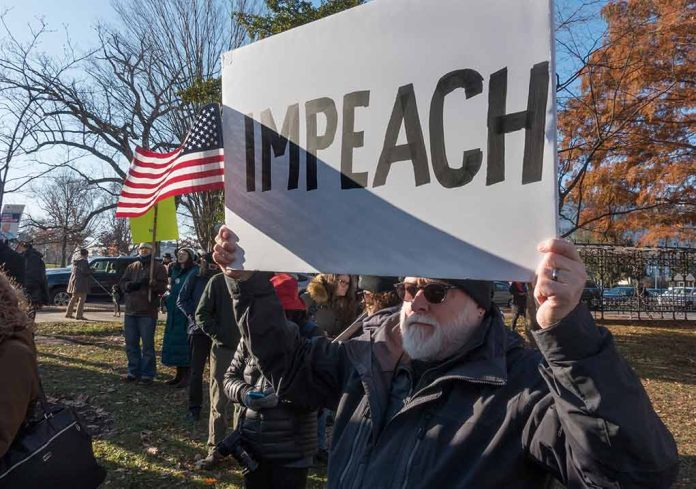 (UnitedHeadlines.com) – The first impeachment inquiry hearing into President Joe Biden's alleged abuse of power as well as corruption is set to be held by House Republicans on Sept. 28.
On Sept. 12, an impeachment inquiry was formalized by House Speaker and California Rep. Kevin McCarthy. House Oversight Committee Chairman and Kentucky Rep. James Comer, Ways & Means Committee Chairman and Missouri Rep. Jason Smith as well as House Judiciary Chairman and Ohio Rep. Jim Jordan all were directed by McCarthy to lead the investigation.
Biden faces allegations of being involved in his son, Hunter Biden's, business dealings with foreign nationals. It is alleged that Hunter Biden promised his dad's public office would be used to grant favors in exchange for payment.
Before announcing the launch of the impeachment inquiry, McCarthy was brief on what the House Republicans have uncovered about the allegations since July. Devon Archer, a business associate of Hunter Biden, testified in a transcribed interview that Hunter Biden used his then-vice president father as "the brand" sold to his foreign business partners. Archer testified that Biden was on conference calls with Hunter Biden's business partners. A third bank records memo was also released which revealed the Biden family as well as their business associates had received over $20 million from foreign nationals in Russia, Ukraine as well as Kazahkstan while Biden was vice president.
In preparation, it is expected the bank records of both Hunter Biden and James Biden will be subpoenaed by Comer before Sept. 22. The records could help provide insight into the investigation into the family's business dealings and Biden's alleged involvement. Comer said the subpoena will be issued "Once all the i's are dotted, t's are crossed."
Additional transcribed interviews are expected to be sought from Eric Schwerin and Rob Walker, two of Hunter Biden's business associates.
However, the first hearing is expected to explain the status of the impeachment inquiry and review the evidence that already exists.
Comer stated that there would be "three credible witnesses" at the first hearing.
The overall inquiry is expected to conclude before the primary elections begin.
Copyright 2023, UnitedHeadlines.com