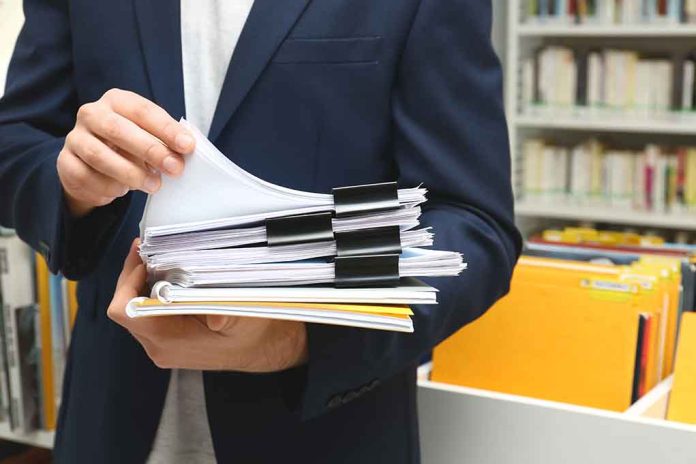 (UnitedHeadlines.com) – Republican House Oversight Committee Chairman and Oklahoma Rep. James Comer is seeking information from the Biden administration about the handling of classified documents found in an office used by President Joe Biden. 
The request issued March 7 seeks to answer the question of whether the Biden administration suppressed a statement issued by the National Archives and Records Administration (NARA) issued in response to mishandling of the classified documents. The March 7 letter to White House Chief of Staff Jeff Zients seeks documents and communications.
The alleged suppression came to light during a Jan. 31 interview by the House Committee on Oversight and Accountability of National Archives lawyer Gary Stern.
In response to the discovery of the classified documents at Penn Biden Center, the NARA drafted a statement Jan. 9, according to Stern. However, the statement was withheld from news organizations, according to Stern.
On Jan. 10, 13, and 15, the House Committee on Oversight and Accountability Committee requested documents regarding Biden's mishandling of classified material from the White House. A March 21 deadline has been set for the requested documentation of communication between Biden's personal attorney's communication and the NARA.
The top Democrat of the House Oversight Committee and Maryland Rep. Jamie Raskin released more from the interview with Stern March 7. He also released a letter that was sent from the Department of Justice during the previous Congress that asked the NARA to help protect their investigations by not disclosing information to the Committee.
After the discovery of the classified documents at his office, more documents were found in Biden's Delaware homes. The Department of Justice has started an investigation into the discovery of the documents.
The documents found at Biden's residences and office come after the discovery of classified documents at the Mar-a-lago estate of former President Donald Trump. Classified documents have also been found at the home of former Vice President Mike Pence.
Copyright 2023, UnitedHeadlines.com