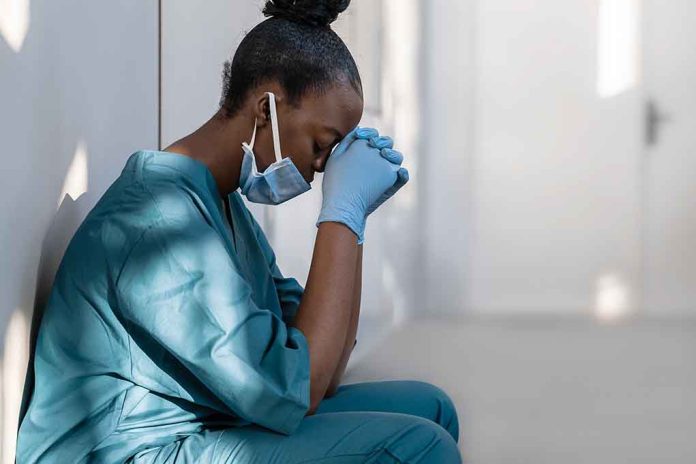 (UnitedHeadlines.com) – Healthcare workers have taken care of COVID-19 patients throughout the pandemic. As the virus continues to run rampant throughout the United States, the healthcare industry is suffering from a shortage of employees. A recent study uncovers why the field seems to be "bleeding" workers.
Despite the coronavirus having only been around for two years, nurses, doctors and other professionals who care for COVID patients are showing signs of tremendous stress. While these workers are often under pressure due to the nature of their jobs, they're now starting to show signs of stress similar to that of combat veterans.
Signs of post-traumatic stress disorder (PTSD) seen in frontline healthcare workers during the COVID-19 pandemic may be linked to trauma that occurred earlier in their lives, according to a study from Oxford University.https://t.co/3A5EGQhlhw pic.twitter.com/SbgAO8aarg

— SABC News (@SABCNews) October 29, 2021
According to a study from The Journal of General Internal Medicine, 15% of respondents indicated they weren't at all likely to remain in the field for the next five to ten years. When looking at nurses specifically, the figure grew to 20%. Experts attribute the number of healthcare workers leaving the field to mental health issues.
Nearly three-quarters of respondents indicated they had symptoms of depression, while over one-third showed symptoms of post-traumatic stress disorder. Another 15% expressed feelings of suicide or self-harm. A clinical psychiatrist at the VA Puget Sound Health Care System, Dr. Rebecca Hendrickson, blamed the duration of the pandemic for the way workers' mental health diminished.
It's likely that the loss of employees, and corresponding short staffing, has played a large role in the stress these professionals endure day-in and day-out. Like anyone else, the unending pressure and trauma eventually wear them down and cause them to give up.
Copyright 2022, UnitedHeadlines.com