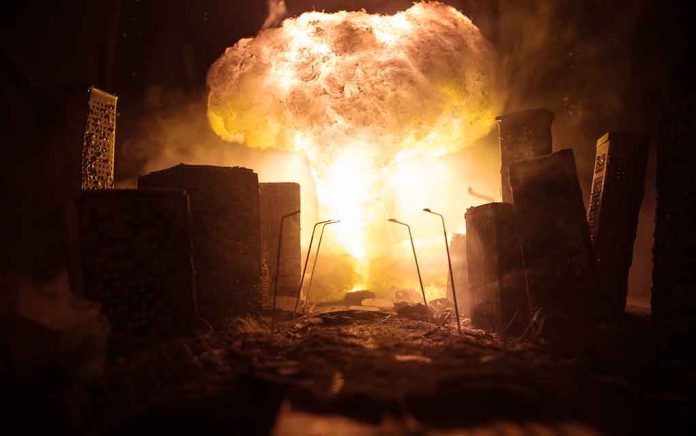 (UnitedHeadlines.com) – A fake newscast created by the Pentagon in 1986 is making its rounds on the Internet and shocking Americans. Recently obtained by Gizmodo, the video is part of a training exercise called "Mighty Derringer," intended to help government agencies prepare for catastrophe events. In the video, a newscast discusses a terrorist incident in Indianapolis, involving the use of a nuclear bomb.
Remember, this footage is just a simulation.
The Fake Newscast
Gizmodo got the video through a Freedom of Information Act (FOIA) request. The National Nuclear Security Administration, a part of the Department of Energy, created it as part of the training operation.
The clip features Channel 9 Eyewitness News anchor Jeff Schwartz. He opens the broadcast by telling viewers the city is heading into day four of the situation after Indianapolis had a nuclear explosion. He urges residents to stay calm while telling them there are not many details available so far.
Schwartz explains a large portion of the downtown has been evacuated as terrorists with nuclear devices remain hidden in the area. He says nuclear experts from the Nuclear Emergency Search Team, now the Nuclear Emergency Support Team (NEST) are en route to defuse bombs and "neutralize the threat."
The anchor turns the announcing over to Anne Miller, who is in a helicopter above the city. She notes there is light traffic due to the situation and roadblocks keeping people out of downtown. The FBI and police have restricted the airspace above the location of the terrorists.
Miller reports that they are trying to get closer when, suddenly, an explosion occurs. The viewers see static before Schwartz reappears, saying they believe there was a technical issue. At that point, there is a loud boom. Schwartz reacts in fright, and the video ends.
Operation Mighty Derringer
"Mighty Derringer" was designed to test how well federal agencies could coordinate in a situation of such devastation. It also assessed NEST's response.
Not all details about the exercise are available as they remain classified. What is known is some of the back story. The terrorists were from Montrev, a made-up country, and headed by the fictitious ringleader Gooch.
There are few answers about how everything played out, but reports say the exercise was successful. Recaps in the records note 900 people died, 800 suffered injuries, and there was damage to a 20-square block area of the city. In addition, there is evidence the feds actually set off bombs of some type and hid nuclear materials in Indianapolis to add to the realism of the exercise.
The video and this training operation are eerie given the current state of the world. With Russian President Vladimir Putin threatening nuclear war, and North Korea's instability when it comes to using nuclear weapons, it is scary to think a similar situation could be a reality one day. At least the government has practiced what to do should that day come.
Copyright 2022, UnitedHeadlines.com