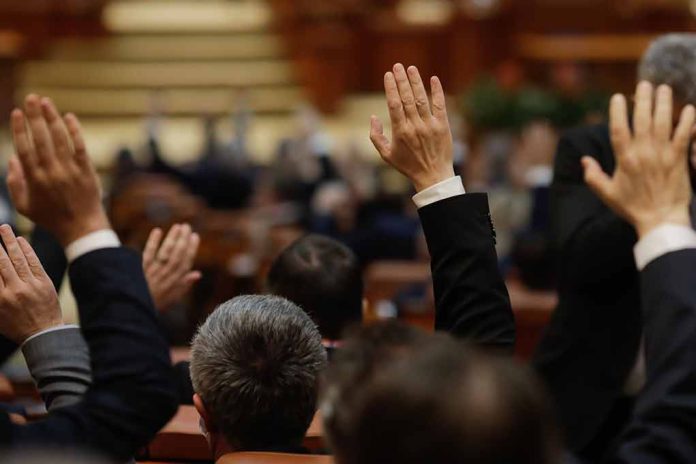 (UnitedHeadlines.com) – On Sept. 21, the House failed to push one of its 12 annual spending bills through a procedural hurdle after five House Republicans joined Democrats in voting 212-216 against the legislation.
In what is known as a rules vote, Arizona Rep. Andy Biggs, North Carolina Rep. Dan Bishop, Arizona Rep. Eli Crane, Georgia Rep. Marjorie Taylor Greene as well as Montana Rep. Matt Rosendale, voted with Democrats against the procedural vote. In a procedural maneuver that would allow the legislation to be brought up again, Oklahoma Rep. Tom Cole voted "no." On Sept. 19, the rules vote for the defense spending bill also failed to pass a House vote.
The House must pass the rules vote in order to begin debate on the over 180 amendments lawmakers are seeking to attach to the $826 billion defense spending bill.
The vote comes after House Republicans held a closed-door conference meeting Sept. 20 where they discussed a 30-day stopgap spending deal which would avoid a government shutdown and give them more time to pass their spending bills. So far, only one out of their 12 individual appropriations bills have been passed. Rather than a large "omnibus" spending bill to fund the government, the House Republicans opted to pass the individual bills.
After receiving assurances regarding spending from the House Speaker and California Rep. Kevin McCarthy, South Carolina Rep. Ralph Norman as well as Colorado Rep. Ken Buck changed their votes on Sept. 21.
McCarthy stated that he was surprised by Crane and Greene's "no" votes, adding "that wasn't the impression they had given us."
The government will shut down Sept. 30 if all 12 individual appropriations bills are not passed by the House and Senate and signed by President Joe Biden. If the bills are not passed, lawmakers in both the Senate and the House will need to pass a continuing resolution or stopgap spending bill that is then signed by Biden in order to avoid a shutdown.
Copyright 2023, UnitedHeadlines.com