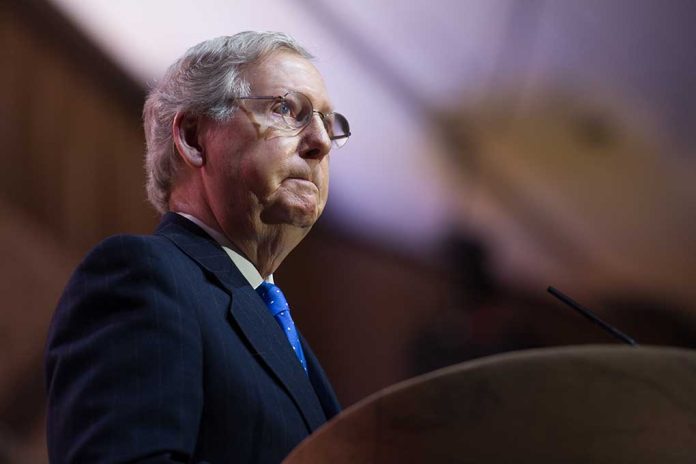 (UnitedHeadlines.com) – Senate Minority Leader Mitch McConnell (R-KY) and fellow Republican Senator Rick Scott (FL) have been butting heads for several months, disagreeing on everything from election spending to Social Security and Medicare. Apparently, their most recent interactions have only intensified the feud. The Florida lawmaker recently called out his Kentucky peer for having a perceived lack of backbone.
In a February 6 tweet, Scott seemed to take a jab at McConnell by mentioning the debt ceiling deal the Kentucky senator helped enact in 2022 while the old congressional lineup remained.
We can't keep caving in to the Democrats and the debt ceiling is a perfect example.

I am not going to back down and I'm going to keep fighting to make sure we get our fiscal house in order and protect American families' hard-earned dollars. https://t.co/N7czH68TOC

— Rick Scott (@ScottforFlorida) February 6, 2023
McConnell worked alongside Senate Majority Leader Chuck Schumer (D-NY) to enable a vote on the debt ceiling to pass with a simple majority. Typically, a vote of at least 60 members is necessary for a measure to pass. Many Republicans, including Scott, viewed the move as caving to the Left's demands too easily, and they were furious when they saw the passage of what they felt was an outrageous spending bill.
Scott challenged McConnell for the minority leader seat in November but failed by a 37-to-10 vote. The Kentucky Senator claimed he held no hard feelings over the attempt at the time, but he later opted to remove his former opponent from his position on the Commerce Committee. Sen. Mike Lee (R-UT), who had nominated Scott to replace the current minority leader, also lost his seat on the committee. McConnell replaced the two, along with Sen. Ron Johnson, who left to join a different committee, with Republican Sens. J. D. Vance (OH), Eric Schmitt (MO), and Ted Budd (NC) — all three serving their first terms in the upper chamber.
Scott returned fire at McConnell, telling The Hill he's "not going to back down." He and twenty-three other conservatives recently sent a letter to President Joe Biden expressing their opposition to increasing the debt ceiling without adding spending reforms to match. Many have little confidence that Biden and the House will reach a deal as the situation currently stands.
Copyright 2023, UnitedHeadlines.com