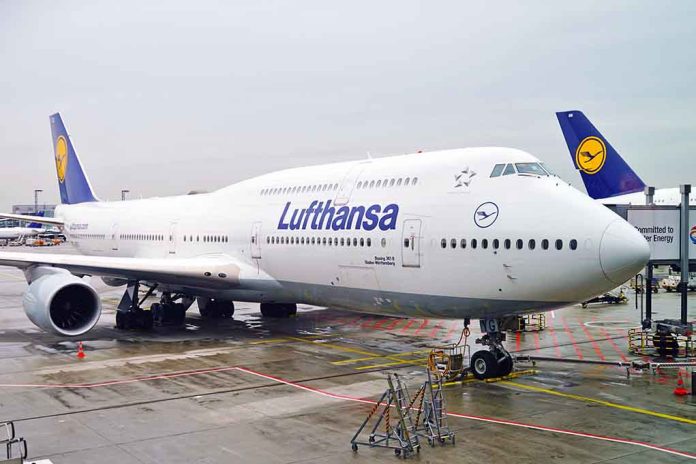 German Airline Apologizes After What Happened to Passengers
(UnitedHeadlines.com) – Recently, a German-based airline refused to allow a large group of Orthodox Jews aboard their plane after some of the travelers refused to wear masks. The airline, Lufthansa, has since apologized for the incident. But does that make up for the staff's actions?
According to the Associated Press (AP), on May 4, a group of Orthodox Jews from New York attempted to board a Lufthansa flight from Frankfurt to Budapest. When some of the passengers allegedly refused to comply with a mask order Lufthansa has in place, staff for the German airline stopped anyone they claimed appeared to be Jewish from boarding the flight.
German airline Lufthansa has apologized for refusing to let any members of a large group of Orthodox Jewish passengers onto a flight after some of them had refused to wear masks.https://t.co/wcdhw5PFaM

— NBC News (@NBCNews) May 12, 2022
Lufthansa asserted it was staunchly against anti-Semitism, racism, and discrimination, claiming to have a zero-tolerance policy regarding those issues. The AP report stated the airline regretted that their staff held even people complying with the mask mandate accountable, noting staff members should only have stopped those without masks from boarding the plane. Even with COVID-19 cases declining, many countries and airlines still require masks to ensure the virus doesn't spread.
Yehuda Teichtal, a Rabbi from Berlin and the local Chabad community leader, asserted German companies should take more care when dealing with possible cases of anti-Semitism, citing the nation's past relationship with Jews, particularly in World War II. Still, the Rabbi welcomed Lufthansa CEO Carsten Spohr's personal phone call to apologize for the incident.
Do you think the airline handled the situation correctly?
Copyright 2022, UnitedHeadlines.com