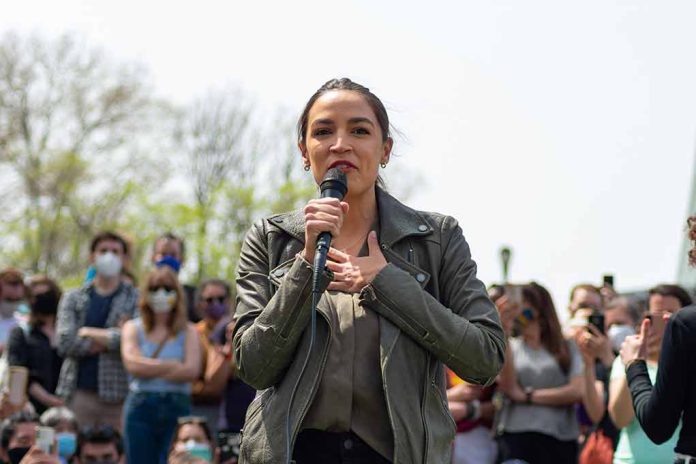 (UnitedHeadlines.com) – Justine Medina, 33, a former aide to New York Rep. Alexandria Ocasio-Cortez has been named as a senior official in the Communist Party of New York state.
For most of 2020, Medina worked for the campaign of Ocasio-Cortez. As a member of the campaign, she was responsible for both organizing as well as writing language for policies with the Anti-War Veterans as well as Peace Movements. According to Federal Election Commission records, she was paid about $35,000 from February to November.
An October 2020 tweet states that she works for AOC but is a Communist. In a future tweet, she describes how she feels communism is about humanity in general, as well as equality, democracy, peace, the advancement of workers, and the oppressed.
In June 2020, during the Black Lives Matter riots in New York City, Median was arrested twice. Also in 2020, she was also arrested in Woodhaven, Queens, for defacing a plaque that honors Trump.
In 2021, People's World listed her as the New York Young Communist League's co-chair. She is currently listed by People's World as a member of the New York Young Communist League's executive committee. People's World is a Communist Party publication.
The New York State Communist Party was active in the successful unionizing of the Amazon workforce into the Amazon Labor Union at JFK8. According to an article posted on the website of the Communist Party, Medina is a packer on Staten Island at the Amazon warehouse.
Her father, Omar Medina, is a wealthy Cuban-American trial attorney, whose license was suspended for 30 days in 2013 for making false statements on behalf of one of his clients. In 2013, he was also sued for wage theft.
In a statement to the New York Post, her father said his daughter is misguided about the benefits of Communism, which his family escaped from, and that communism is a political system that does not work.
On Twitter, AOC still follows Medina.
Copyright 2023, UnitedHeadlines.com