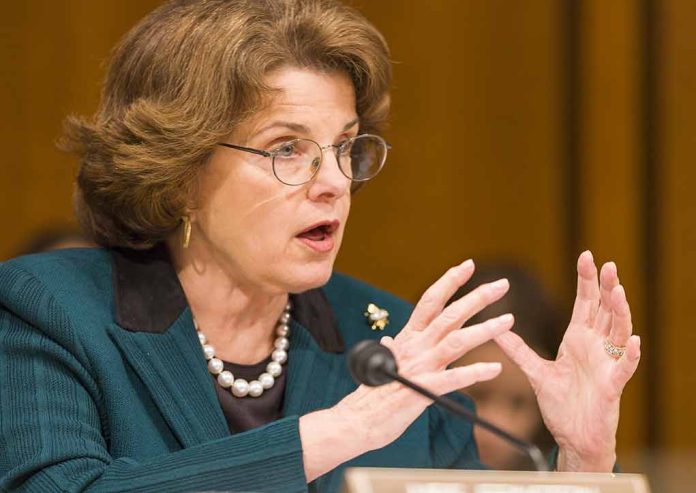 (UnitedHeadlines.com) – While she continues to recover from shingles, California Sen. Dianne Feinstein, 89, asked April 12 to be replaced temporarily on the Senate Judiciary Committee.
Senate Majority Leader Chuck Schumer stated he will ask the Senate to temporarily allow another Democrat to serve on the Judiciary Committee. In order to allow another member to serve on the Judiciary Committee, a resolution allowing another member to be named to the Judiciary Committee must be agreed to by the Senate either through a 60-vote threshold or by seeking unanimous consent, which requires all voting Senators to support the resolution. A unanimous consent request is expected to be pursued by Schumer.
Feinstein announced at the beginning of March that she had been hospitalized with shingles. She was recovering at home by March 7, when she said she was continuing to receive treatment. Though she had expected to return to Washington at the end of March, complications related to her shingles diagnosis have prevented her from returning. 
Feinstein's absence had slowed down the push by Democrats to confirm President Joe Biden's nominees, according to Senate Judiciary Committee Chairman and Illinois Sen. Dick Durbin. Fourteen pending judicial nominees have had hearings but not had a committee vote.
Since her diagnosis, Feinstein has missed 60 Senate votes.
Some Democrats have called for Feinstein to step down, including California Rep. Ro Khanna and Minnesota Rep. Dean Phillips who called for her resignation April 12 on Twitter.
Recently, David Grannis, Feinstein's chief of staff, took a position at the Commission on the National Defense Strategy. A longtime aide for the Senate Intelligence Committee, James Sauls, replaced Grannis.
In February, Feinstein announced she would not be seeking another term. At least three Democrats, Rep. Katie Porter, Schiff and Rep. Barbara Lee, and one Republican, Eric Early, have already launched campaigns for the seat. Schiff already has the endorsement of former House Speaker and California Rep. Nancy Pelosi.
Copyright 2023, UnitedHeadlines.com