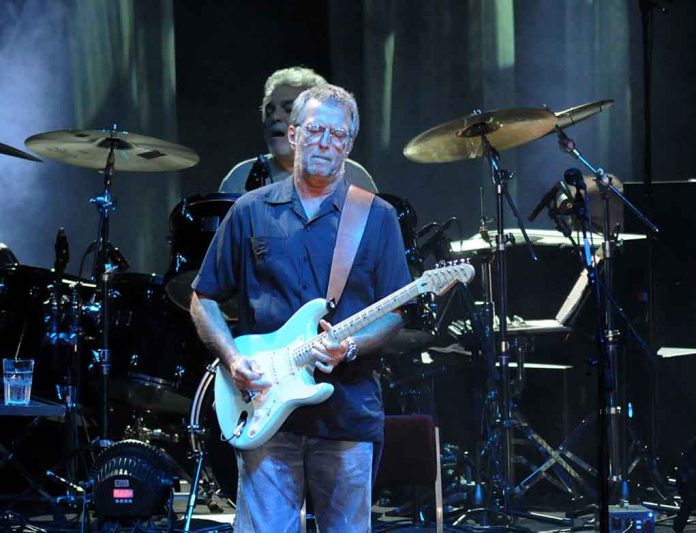 (UnitedHeadlines.com) – To many classic rock enthusiasts, Eric Clapton is one of the greatest musicians the world has ever seen. The guitar-playing legend has hordes of fans who prove just how much of an influence he has. Yet, when it comes to COVID-19, his supporters are divided over where Clapton stands.
Stand and Deliver
The first protest song of Clapton's long career, "Stand and Deliver," didn't talk about global warming or the death of George Floyd. Instead, the renowned guitarist set his sights on coronavirus lockdowns and the government's handling of the pandemic. The song cost him a 35-year friendship with fellow guitarist Robert Cray, who didn't like the song's comparison of the COVID lockdowns to slavery. The loss didn't stop Clapton, though, who released two more songs criticizing lockdowns.
Anti-Lockdown, Anti-Vaccine Mandate
The guitar great's stance on vaccine mandates is just as firm. Clapton has gone as far as to announce that he will not play anywhere the audience has to prove their vaccination status. Clapton described such venues as creating discriminated audiences.
The recent stance against coronavirus overreach is a big turn for Clapton, as he's always kept a distance between himself and politics. That's why many of his fans are shocked that he's taken a stand. It's important to note that the guitar-playing legend, who was actually vaccinated earlier this year, isn't anti-vaccine. He is, however, against the government forcing everyone to get the shot, especially after his experience after receiving the immunization.
Clapton's first jab put him on the bench for a week, but it was the second dose that really got to him. He noted that for two weeks after his second shot, he was concerned that he'd never be able to play again as his hands and feet were essentially useless. They burned, felt frozen and went numb.
His friend and fellow musician Bonnie Bramlett, of Delaney & Bonnie, affirmed that he couldn't feel his hands and didn't want anyone else to experience that horror. She doesn't understand why everyone is so concerned about his stance, adding that she thinks of Clapton as a hero.
A Man of Influence
Medical experts disagree with Bramlett, asserting that Clapton is more than just a single man sharing his views; Clapton has uncanny influence, and taking the wrong stance could harm people. An associate professor at the University of Colorado School of Medicine, Joshua Barocas, believes that Clapton could be a global ambassador with millions of people following him. Instead, Clapton chose to go with the "pro-COVID" approach, according to Barocas.
Clapton's stance may have tarnished his reputation among many fans and friends, but others see him as fighting for a noble cause. While no one seems to know Clapton's feelings on the subject, many of his friends hope to see him make a comeback. Robert Cray, though, appears to have no intention of rekindling their friendship.
Copyright 2021, UnitedHeadlines.com