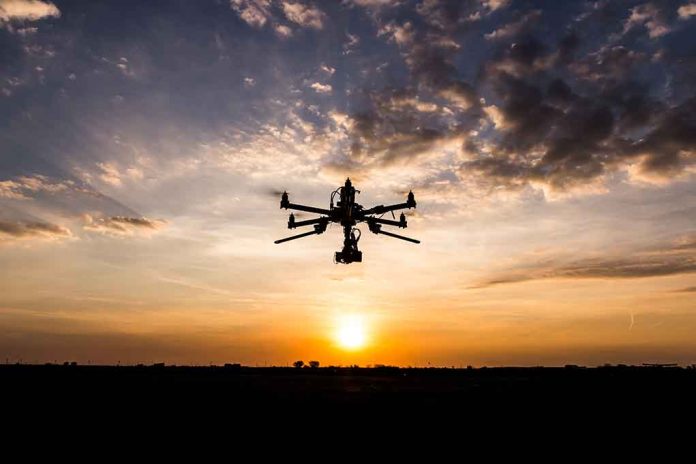 Drones Detect NEW TARGETS – Putin In Trouble?
(UnitedHeadlines.com) – The war in Eastern Europe will be in the minds of those it has impacted for years and decades to come. However, there's a much more dangerous aspect to the aftermath of Russia's invasion, landmines. Countries all over the world have seen the horrors time and time again, people dying from these explosive devices even decades after conflicts ended. The mine-detecting effort in Ukraine is now using drones as a way to find these threats.
As much as 62,000 square miles of Ukrainian land could be "contaminated" by mines, per Kyiv's most recent estimate. Drones, robots and similar tech can help reduce the inherent danger of locating them. https://t.co/Q1gNcmpXsf

— Axios (@axios) August 29, 2022
According to Axios, Ukrainian officials believe that 62,000 square miles of their country contain landmines. Removal efforts could take decades to complete. However, Draganfly, a Canadian drone maker, hopes its product will help expedite the process. The company is supplying mine-hunters in the war-torn country with unmanned aerial vehicles (UAV) equipped with various sensors to help map out areas they suspect mines to be present.
Each of the sensors has its strengths and weaknesses, such as the magnetometer, which excels at detecting metal landmines but has a hard time finding those consisting of mostly plastic. Mine-hunters can cross-examine data from the different sensors and cameras to gain the most detailed look at how many mines may be in any given area.
While UAVs have an advantage in that they're not affected by terrain the same way rovers are, they must be able to carry heavy equipment and can't dig up the mines themselves. Despite their disadvantages, drones can still be a valuable asset in landmine detection.
Copyright 2022, UnitedHeadlines.com