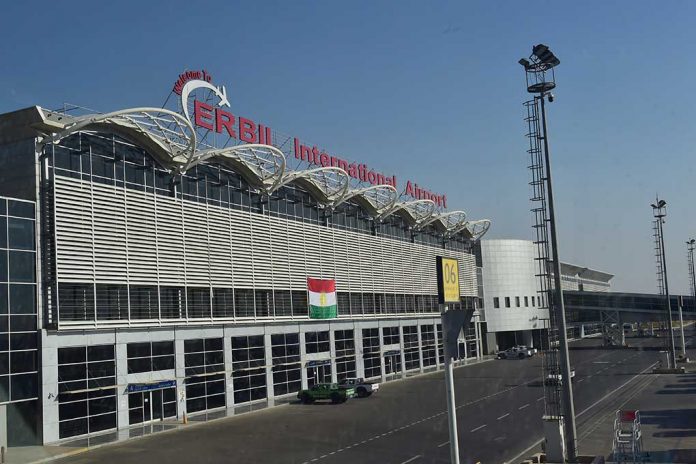 (UnitedHeadlines.com) – Tensions continue to flare up in the Middle East. The pending completion of US troop withdrawal in Afghanistan has raised numerous questions regarding the potential for increased tension in the region, as have recent flare-ups between Hamas and Israel. Ongoing instability in Iraq has plagued the country for the better part of a generation. With that in mind, it should come as no surprise that US troops in Iraq fell victim to another attack this week.
On July 6th, drones, accompanied by rocket fire, carried out an attack on Erbil International Airport in the Iraqi capital of Kurdistan. Officials believe the assault targeted a US base located on airport grounds. The Pentagon initially stated that it had received reports the attack had occurred, but there was no news of any property damage or injuries.
However, Col. Wayne Marotto, a spokesperson for Operation Inherent Resolve, later reported that 14 rockets hit the military installation and its perimeter. According to him, two personnel sustained minor injuries in the attack.
Initial report: At approx. 12:30 PM local time, Ain Al-Assad Air Base was attacked by 14 rockets. The rockets landed on the base & perimeter. Force protection defensive measures were activated. At this time initial reports indicate 3 minor injuries. Damage is being assessed.

— OIR Spokesperson (@OIRSpox) July 7, 2021
The attack occurred only a day after a drone and rockets targeted the US Embassy in Baghdad and the Ain al-Asad airbase where American soldiers were staying. In April, the first Unmanned Aerial System (UAS) dropped bombs near US troops stationed at Erbil Airport. This attack came amid several rocket attacks on areas housing US forces in Baghdad;
Newsweek has reported that a relatively new Shiite militia group in Iraq called the Saraya Awliya al-Dam took credit for the attack.
Time will tell what ultimately happens in Iraq. In the meantime, US military forces remain on alert throughout the region. We will keep you updated on further developments as more information becomes available.
Copyright 2021, UnitedHeadlines.com