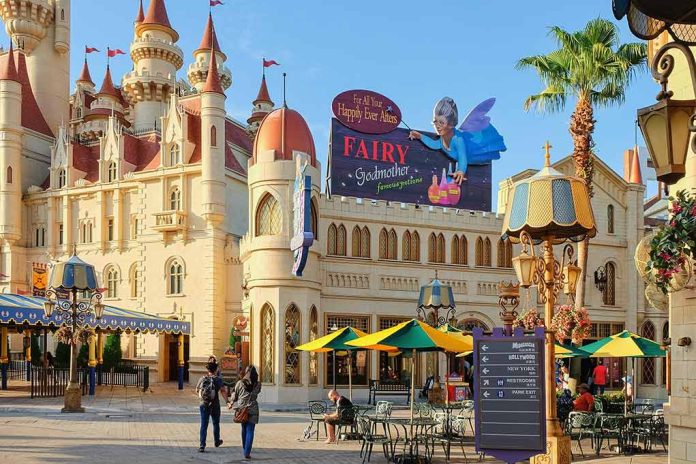 (UnitedHeadlines.com) – A viral video featuring a man dressed as Fairy Godmother's Apprentice outside Disneyland's Bibbidi Bobbidi Boutique has users on Twitter lashing out at Disney for grooming children.
The video shows a man with a mustache, who introduces himself as Nick to customers, wearing a blue dress as well as blue eyeshadow while waving to children inviting them into Bibbidi Bobbidi Boutique saying he's there to help them shop for the day.
Another female employee is shown in the video, who is wearing the same costume and is giving a princess makeover to a young girl.
Bibbidi Bobbidi Boutique is aimed at children 3-12 years old. The boutique allows children to choose from costumes, which range in price from $250-$450, nail polish, makeup, hairstyles, and other accessories that allow them to transform into a princess or prince.
On Twitter, one user commented on the video saying, "Absolutely grooming." While others went on to call the video insane. Sara Gonzales, a TV host, tweeted to "stop taking your family to Disney."
The video, originally posted on TikTok by a mother who was visiting the park with her three children, had 7.1 million views as of May 30. Comments on the original TikTok video say Nick has been working at the boutique for a while.
In 2021, Disney updated its policy for uniforms for its cast members, allowing employees to wear clothing of their preferred gender. Disney stated that it wanted its cast members to have a "sense of belonging" when at work. The new policy also included allowing men to wear nail polish. Cast members were also no longer required to cover tattoos while at work. Disney stated the policy updates would allow cast members to "express their cultures and individuality" better when they are at work.
In an effort to be more inclusive, Disney renamed Bibbidi Bobbidi Boutique employees Fairy Godmother's Apprentices in 2022. They were previously called Fairy Godmothers in Training.
Copyright 2023, UnitedHeadlines.com