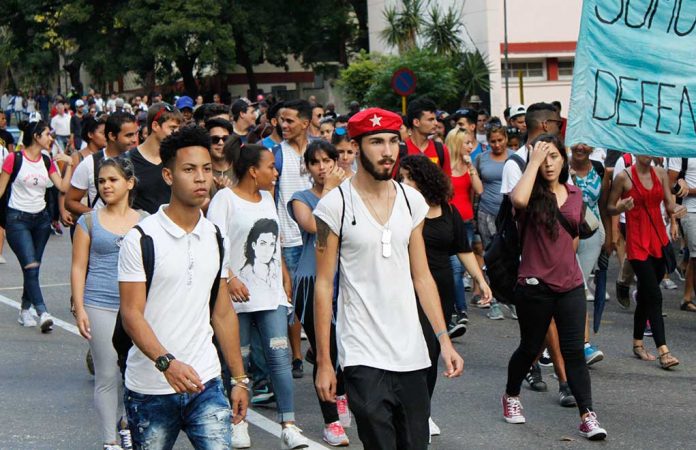 (UnitedHeadlines.com) – Recent protests in the Communist-run country of Cuba have prompted a response from Florida's Republican Gov. Ron DeSantis. Some Americans have even suggested taking boats to Cuba to offer aid to its people. The US government has discouraged this action, but Governor DeSantis has been exploring other options.
I had a good discussion with leaders in the Cuban-American community about the communist dictatorship's crimes against the people of Cuba. We stand in solidarity with the people of Cuba and we are united in our support of their right to choose freedom over the communist regime. pic.twitter.com/nFF4cAKwcG

— Ron DeSantis (@GovRonDeSantis) July 13, 2021
President Joe Biden has stated he would "stand behind the people of Cuba," but it's not entirely clear what he means. According to reports, Biden believes the protests are a response to COVID-19-related shortages rather than political corruption at the hands of Cuba's oppressive communist regime. In Florida, Cuban Americans have taken to the streets, rallying support to call for our help.
Meanwhile, Gov. DeSantis is taking a proactive approach to the situation instead of sitting on the sidelines like Biden. For instance, he met with Cuban-American leaders to discuss the mounting civil unrest in Cuba. DeSantis also corrected Biden's claim that the protests resulted from the pandemic and has called the entire situation "revolting."
Cuban officials quickly took measures to take down internet services to eliminate news of the plight of the Cuban people from reaching the outside world. DeSantis came up with a working solution to that dilemma. He suggested the United States could provide satellite-based internet services through private companies to reconnect the Cuban people to the rest of the world.
As is the case all too often, a Republican offers decisive leadership and solutions to an emerging problem while a Democratic president is sitting on the sidelines observing from a safe distance.
Copyright 2021, UnitedHeadlines.com