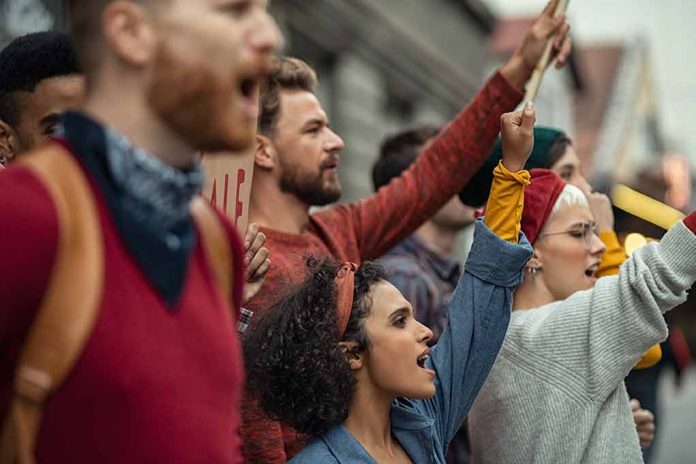 (UnitedHeadlines.com) – On Aug. 12, supporters of former President Donald Trump heckled Florida Gov. Ron DeSantis during his campaign stop at the Iowa State Fair in Des Moines. The Iowa State Fair has been a quintessential stop for presidential candidates since 1972.
DeSantis was at the fair for a "Fair-Side Chat" with Iowa Gov. Kim Reynolds. Reynolds called on the crowd to be "Iowa Nice" as protesters used cowbells and whistles to drown out DeSantis. Some protesters also chanted "We want Trump" and "We love Trump" while DeSantis flipped burgers and pork chops at the fair. Two protesters were removed from the fairgrounds.
During the stop, a plane flew over the fairgrounds with a banner that said, "Be likeable Ron!" When Trump arrived, his private jet circled the area where DeSantis was manning the grill.
DeSantis was flanked at the fair by Iowa state lawmakers. He walked around the fair with his family, playing carnival games. While nearly a dozen U.S. House members from Florida accompanied Trump to the Iowa State Fair.
In response DeSantis stated that "it's fine to bring folks in from Washington" however, he feels Iowans "are more concerned" about those who live in "their communities."
While at the fair, Trump stopped inside the Animal Learning Center, at the Iowa Pork Producers' tent as well as at the Steer N' Stein food pavilion.
While other candidates for the 2024 Republican nomination for president such as former Vice President Mike Pence and Vivek Ramaswamy participated in the "Fair-Side Chat" series, Trump declined to participate. Neither Trump nor DeSantis took part in The Des Moines Register's Political Soapbox, a fair mainstay.
The Iowa caucus will be held Jan. 15.
According to the Real Clear Politics rolling average of national polls, Trump leads DeSantis by 39 percent. He also leads DeSantis by 24 percent among Iowa Republicans according to a New York Times and Siena College poll.
Copyright 2023, UnitedHeadlines.com