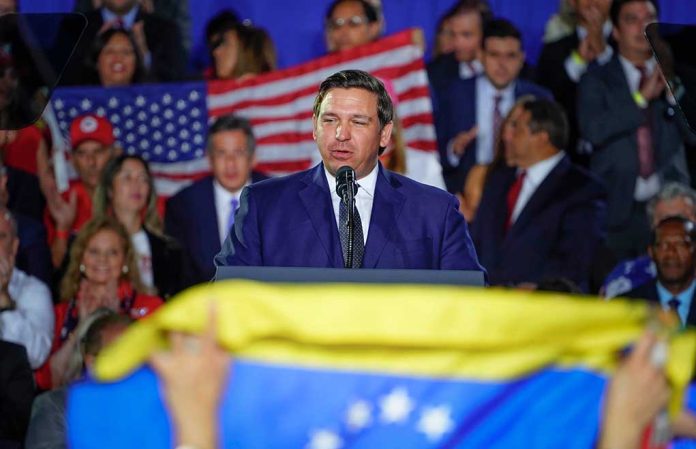 (UnitedHeadlines.com) – Florida Governor Ron DeSantis could be gearing up for a presidential bid following his landslide win against Democrat Charlie Crist. While the popular Conservative hasn't given an official announcement, he has made moves pointing toward the possibility of running for the GOP's nomination. A recent dinner with key donors appears to reveal his decision.
DeSantis invited all of his "strongest supporters" to have dinner with him and his wife during the second weekend in December, according to The Washington Post. While the gathering was likely to thank the donors for their support — which garnered the candidate close to a quarter of a billion dollars for his gubernatorial bid — it might also have been his first step in establishing a formal run for the presidency. Roughly $70 million of those funds remain, and Desantis could use them toward starting a new campaign.
2024 Watch: DeSantis to huddle with top donors following landslide re-election victory https://t.co/2YOKiyBdzB

— Fox News Politics (@foxnewspolitics) December 11, 2022
Another recent move might also offer a hint: DeSantis will release his autobiography in February 2023, which could be a direct play to seize center stage. Even his title, "The Courage to Be Free: Florida's Blueprint for America's Revival," alludes to a possible game plan for the country. The book self-describes as "a rallying cry… to preserve our liberties," noting the governor's many victories against the leftist elite.
Still, the most telling of signals that DeSantis plans to run is former President Donald Trump's sudden views of the man as a political rival. The Daily Wire reports the former commander in chief, who claimed credit for DeSantis' initial win in Florida, has since decided the southern lawmaker is "average" and lacking in "loyalty and class."
Do you think Ron DeSantis will run for president?
Copyright 2022, UnitedHeadlines.com