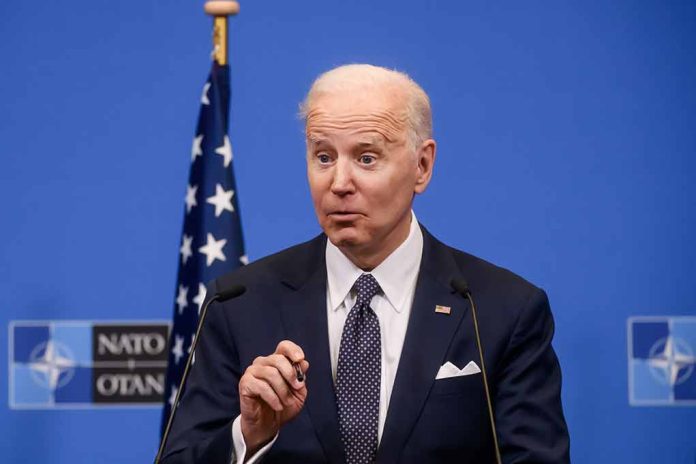 (UnitedHeadlines.com) – Poll numbers for President Joe Biden have some Senate Democrats concerned.
Montana Sen. Jon Tester, a Democrat, stated that in his experience with constituents, Biden has "no enthusiasm" behind him. Tester added that most of his constituents believe Biden is "just too old."
Tester added that while the President has time for his poll numbers to rise, he should also "be concerned."
The comments come as new polls have been released showing Biden's average approval rating falling. According to the most recent Real Clear Politics poll, his average approval rating is 42 percent.
The most recent CBS/YouGov poll showed his average approval rating at 40 percent, with 60 percent unhappy with Biden's performance. The poll surveyed 2,335 adults between Sept. 5-8. It has a margin of error of 2.7 percentage points.
Tester appears to be distancing himself from Biden as he is currently running for re-election in what is expected to be a tight race that could determine control of the Senate. In 2018, Tester won the seat by 3.5 percentage points over Montana Rep. Matt Rosendale.
Tester is not the only vulnerable Democrat to try to distance themselves from Biden and his "Bidenomics" branding.
Pennsylvania Rep. Susan Wild stated she is "not really big on catchphrases," and New Mexico Rep. Gabe Vasquez issued a similar sentiment.
Some Senate Democrats are hoping former President Donald Trump wins the 2024 Republican presidential nomination. Sen. Richard Blumenthal has stated he believes that will help Biden get re-elected.
In a hypothetical head-to-head matchup between Trump and Biden, the most RealClearPolitics polling average shows Trump behind by .4 percentage points.
In another hypothetical, a Sept. 7 CNN/SSRS poll shows Trump and six other Republican presidential candidates ahead of Biden. The poll, conducted Aug. 25-31 with 1,503 respondents, shows Trump with 47 percent and Biden with 46 percent. The poll also showed Biden with a 39 percent average approval rating.
Copyright 2023, UnitedHeadlines.com