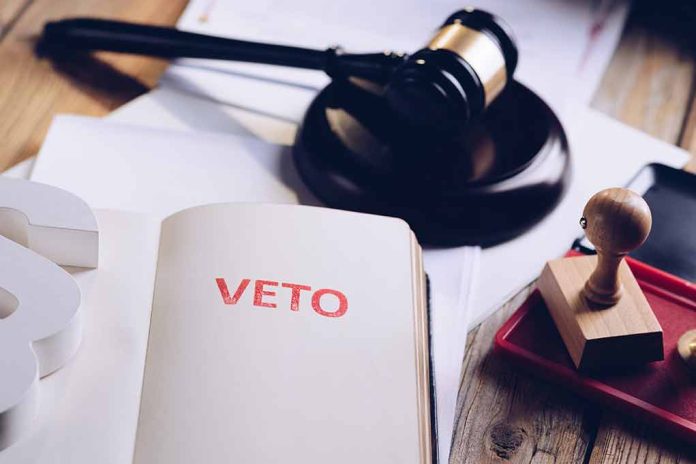 (UnitedHeadlines.com) – A bill that would have prohibited filming explicit material in public spaces, such as schools, has been vetoed by Arizona Gov. Katie Hobbs.
The bill, SB1696, which passed both the Arizona State House and the Arizona State Senate, had been opposed by Democrats. The legislation would have made it illegal to film explicit material in schools, government-funded buildings, and libraries. A violation of the bill would have been classified as a class 5 felony.
In vetoing the bill, Hobbs stated it would not address the concerns, saying it was "little more than a thinly veiled attempt to outlaw books." Even though a similar bill was passed last year that focused on schools, Hobbs said it was too far to ban explicit material from other public spaces, such as libraries.
The bill was written in response to two Lake Havasu City teachers that filmed explicit material in a classroom that was then posted to the social media site, OnlyFans. The fourth-grade teacher and his wife, an eighth-grade teacher at Thunderbolt Middle School, were fired due to the incident. The OnlyFans profile photo for the teacher was her school yearbook photo.
The parent of an eighth-grade student discovered the link to the OnlyFans page which was visible under her real name on other social media platforms, which a parent stated, "which are public, which children follow her."
Parent Kristina Minor said her friend's daughter, whose desk was used for the filming, is "mortified over the situation."
No criminal charges were brought against the couple, which outraged parents.
Arizona State Senator Jake Hoffman, who proposed the legislation, said that no child should ever be concerned their desk was used as the location of an explicit shoot.
In response to Hobbs' veto, Hoffman stated that parents should be upset over the veto. He also said that there ought to be "legal repercussions in place" so that this type of behavior would not happen again.
Copyright 2023, UnitedHeadlines.com