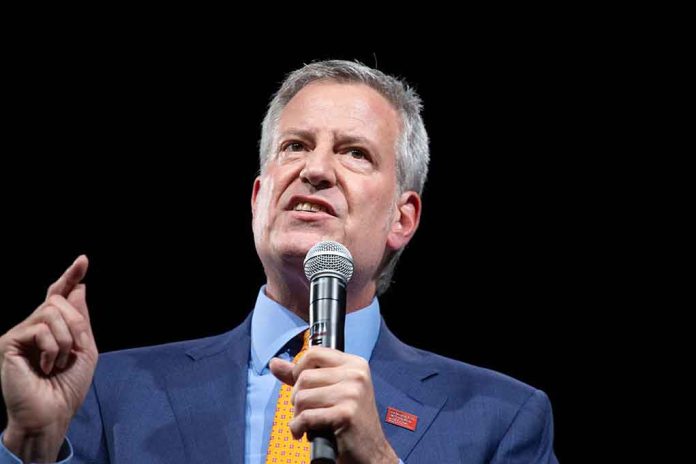 (UnitedHeadlines.com) – Political leaders often have very different approaches to the COVID-19 pandemic. For example, Governor Ron DeSantis (R-FL) decided from day one that it was better for the state to focus on treatments rather than stripping away rights. Mayor Bill de Blasio (D-NY) of New York City, on the other hand, is actually enforcing more control over citizens with a brand-new mandate for private-sector workers.
Being Proactive
Mayor Bill de Blasio (D) of New York City recently announced that the new restrictions will begin on December 27. The mayor's newest mandate would force nearly all New York City residents to prove their vaccination status in order to dine indoors. It even extends to children as young as age five.
DeBlasio's new mandate closely resembles President Biden's federal decree forcing any business with over 100 employees to require proof of vaccination. However, the New York Mayor's version doesn't specify any number of employees, ensuring that it encompasses all businesses in the private sector.
It appears that de Blasio is attempting to be proactive in the fight against the pandemic and the newly emerged omicron variant. In fact, he called the newly announced restrictions a preemptive strike against the omicron variant in a recent interview.
The mayor also shared concerns about the impacts of cold winter weather on the city's ability to respond to delta and omicron surges. He worries that the holidays will leave families wanting to get together, further accelerating the spread.
But are more mandates really the answer, and is de Blasio's decision in his constituents' best interests? The answer isn't so simple.
Being Like Biden
President Biden recently attempted to force federal workers and businesses with 100 or more employees to get the COVID-19 shot. However, the judicial system blocked the order from going into effect, citing fears about the violation of rights.
Similarly, Mayor de Blasio has already imposed the vaccine on city workers. What's changing with the new mandate is the fact that it will apply to all New Yorkers.
The new mandate will affect around 184,000 businesses.
Think of the Children
De Blasio's mandate doesn't just impact adults living in New York City; it also requires that children between the ages of 5 and 11 show proof that they've received at least one dose of the vaccine to dine indoors. In addition, children in that age group will need to show evidence of at least one dose to participate in extracurricular activities at their schools.
New York residents 12 years or older must prove that they've received both vaccine doses to dine indoors and participate in extracurricular activities — unless they've taken the single-dose Johnson & Johnson vaccine.
Restricting children in such a heavy fashion raises questions about the validity of the new mandate. Experts continue to express concern over the mental impacts of separating children from the school environment and their peers.
Battling With Popularity
Mayor de Blasio's term is about to end at a time when his popularity with New Yorkers is struggling more than ever. President Biden struggles with similar issues, mainly for the same reasons: Voters don't feel they can trust his ability to make good decisions. While Biden is eligible for reelection, however, de Blasio is not.
Does de Blasio feel that imposing new mandates on virtually every New Yorker is the best way to boost his popularity? Many Americans are fed up with COVID-19 and the subsequent lockdowns, restrictions and mandates it initiated, most of which Democratic leaders have imposed. This latest mandate isn't likely to make them any happier.
But here's the bottom line: If de Blasio found his popularity was struggling before, he's about to see just how unpopular he actually can become. That's not exactly the kind of legacy most politicians want to leave behind when term limits force them out of office.
Copyright 2021, UnitedHeadlines.com