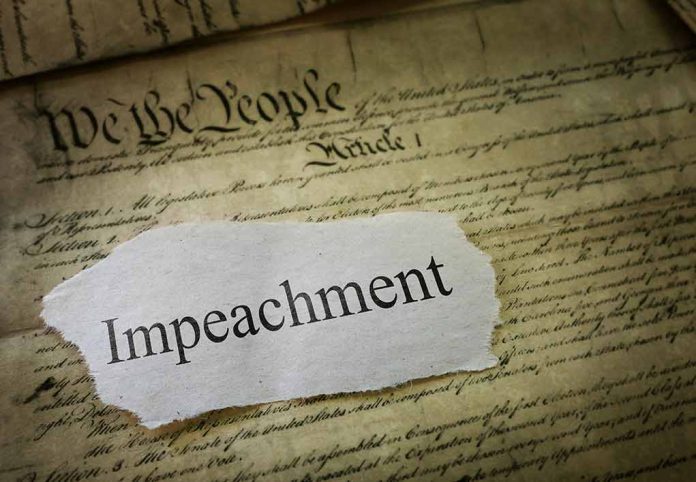 (UnitedHeadlines.com) – On June 22, the rules governing Attorney General Ken Paxton's impeachment trial were announced by the Texas State Senate. The Rules of Impeachment of Warren Kenneth Paxton, Jr. passed in a 25-3 vote.
The Special Committee to Recommend Rules and Procedures for Court of Impeachment, led by Republican Sen. Brian Birdwell, who represents Grandbury, debated about the rules for over 30 hours over three weeks. The vote had been scheduled previously but debate over the rules prompted the delay until June 22.
The committee members included Republicans Phil King, who represents Weatherford, Pete Flores, who represents Pleasanton, Brandon Creighton, who represents Conroe, and Joan Huffman, who represents Houston, and Democrats Sen. Juan "Chuy" Hinojosa, who represents McAllen, and Royce West, who represents Dallas.
The rules require Paxton to be present at the impeachment trial to answer to the charges brought by the Texas State House.
The Notice of Impeachment Proceedings was also passed in a 28-2 vote.
Though the rules require her to attend, Paxton's wife and member of the Texas State Senate, Angela Paxton, was barred from voting due to a conflict of interest.
On May 27, the Texas State House voted to impeach Paxton, due to accusations of obstruction of justice, bribery as well as misappropriation of public resources, in a 121-23 vote. The allegations center around a whistleblower in an investigation involving a friend and donor of Paxton. In 2020, seven whistleblowers alleged wrongdoing by Paxton in an investigation into Nate Paul, a real estate investor in Houston that was under federal investigation for fraud.
Senate Rule 10, Sections B and C was also read by Lt. Gov. Dan Patrick which states what members can discuss about the impeachment trial.
Both the Texas State House and Texas State Senate are controlled by Republicans.
The impeachment trial is scheduled for 9 a.m. Sept. 5. If he is impeached, Paxton will be removed from office permanently.
Copyright 2023, UnitedHeadlines.com