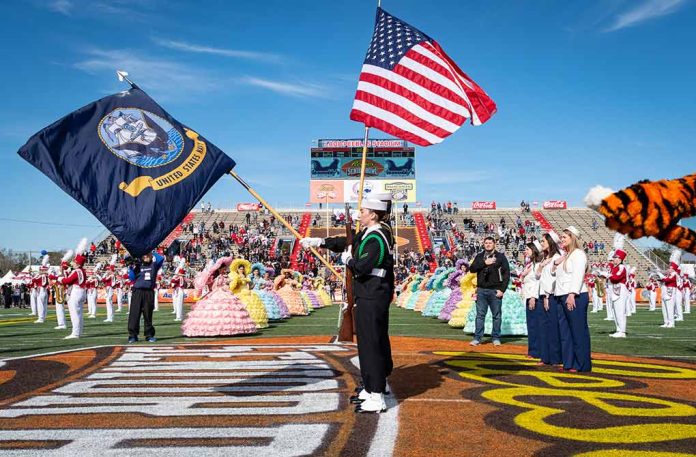 (UnitedHeadlines.com) – Josef Newgarden's victory wasn't the only story making headlines after the Indianapolis 500 at Indianapolis Motor Speedway on May 28. Pre-race ceremonies for the iconic race included an interesting rendition of "The Star-Spangled Banner" by country and pop music star Jewel.
She added her own flair to the national anthem, switching up the pacing and playing the melody on her guitar. The version she sang was folksier and country. Her outfit for the occasion was all-white and included a cowboy hat.
Her rendition, on Twitter on the NBC IndyCar Series account, had many fans sharing their thoughts. One fan said her rendition was "disrespectful." Many users weighed into the controversy saying the national anthem is not something that should not be stylized, but instead respected. Other users commented that while it wasn't as bad as the rendition by Roseanne, it was one of the worst to date.
One comment even said her changing the national anthem was narcissistic and that she should have just sung it the way it was and not tried to improve upon it.
Some comments on the performance included that while they liked her as a singer, the rendition was simply "bad."
According to some comments, those in attendance at the Indy 500 tried to sing along to the national anthem but were unable due to her changes.
Some comments about the performance were positive, with some saying it was just Jewel's style, saying "She sang just like Jewel sings her songs." Her rendition even got the approval of Ted Nugent who said it was "beautiful."
Jewel was named May 19 as the artist who would perform the national anthem before this year's race. In making his announcement, J. Douglas Boles, president of Indianapolis Motor Speedway, said Jewel's performance would be "a memorable and moving experience."
This is not the first time Jewel has performed the national anthem. She performed the national anthem earlier this year at the 2023 NBA All-Star game, and also performed the national anthem on Jan. 25, 1998, at the beginning of Super Bowl XXXII.
Copyright 2023, UnitedHeadlines.com