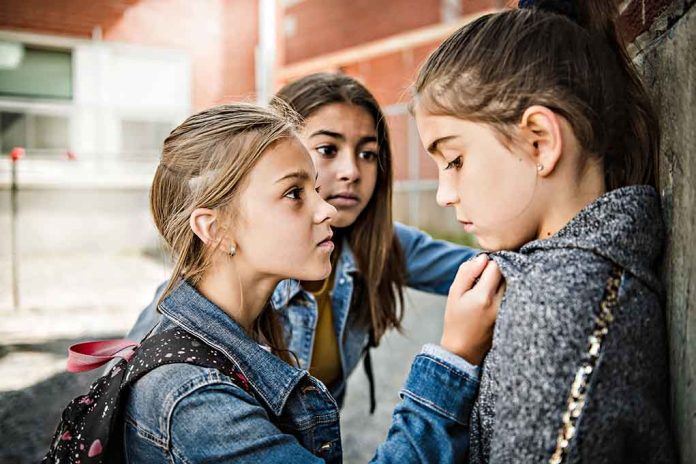 The Police Refuse To Stop This 11 Year-old Girl
(UnitedHeadlines.com) – When people think of someone terrorizing a neighborhood, the last idea likely to pop into their head is that an 11-year-old girl is responsible. In Boston, this unlikely horror has taken hold as numerous reports of a young girl and other similarly aged children are attacking people at random. Police have asserted they're aware of the girl and her actions, but they can do nothing about it.
So if these animals kill someone Boston can't do anything? That's insane!! If they can't arrest these sick deranged kids, then institutionalize them!!!

Violent 11-year-old girl is terrorizing unsuspecting people in Boston. Cops know all about her. https://t.co/2rlPOZ2jcq

— AmericanPatriot (@AmericaProud99) May 3, 2022
WFXT-TV reported that over the past couple of weeks, a group of tweens has been responsible for unprovoked attacks. One of the attacks involved an 81-year-old man, whom they covered in whipped cream in a McDonald's. The same group of kids physically assaulted a woman, demeaning her racially and hurling obscenities at her.
On April 27, another group of teens harassed a woman and her child, prompting two Suffolk University students to step in. As the victim fled with her offspring, the group of juveniles cursed at them before turning their attention to the students and physically attacking them.
Authorities have arrested several of the teens, but the 11-year-old remains free. Boston Police have mentioned they know the identity of the girl, but they can't do anything about her. They added they can't charge the child as laws prevent them from prosecuting anyone under 12 years old. Authorities noted the only course of action available as of now is to issue a summons, but they can't file formal charges against her at this time.
Copyright 2022, UnitedHeadlines.com