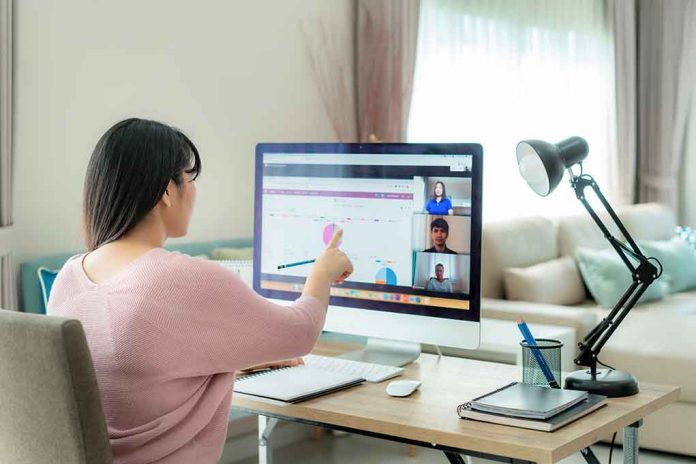 (UnitedHeadlines.com) – Remote work has become popular in recent years as more and more people are wanting to work from home. Many simply seek a good work-life balance. After COVID-19 took the world by storm, much of the population had no choice but to work from home. Now, as the country faces a labor shortage, it seems that there's no problem finding remote workers.
Lack of Labor in America
The US economy took a blow during the COVID-19 pandemic as health regulations and other concerns kept many Americans at home and out of work. While the world is still dealing with coronavirus and the new Omicron variant, economies around the globe are starting to recover.
America is seeing its economy stall though as many companies can't find the help they need to operate properly. But is there really a labor shortage, or are people just not wanting to go back to work?
Working From Anywhere
In contrast with the ongoing situation with many businesses, companies allowing employees to work remotely, either part-time or full-time, seem to be booming. Working remotely allows people to have the freedom to work from wherever they want, typically from home, as long as they have WiFi or some sort of Internet connection.
Who wouldn't want to work in their PJs? Not to mention there are no annoying traffic jams or sneezy and wheezy coworkers with the potential to spread whatever illness they may have to others.
There's a Clear Preference
FlexJobs conducted a survey between July and August that found around 58% of Americans would rather have fully remote jobs as opposed to in-person alternatives. Hybrid management or part-time remote work found itself faring pretty well, with 39% of US workers indicating that's what they prefer. However, only a tiny 3% responded that they prefer to work entirely in person.
It's Hard to Find Good Help
Truthfully, this isn't about finding "good" help anymore; it's about just finding help, in general — at least for manufacturers, retailers and restaurants. The latest survey from ManpowerGroup shows that around 70% of these industries have reported a shortage of employees as well as difficulty keeping the ones they already have.
The survey indicates that companies offering the least amount of flexibility are often the ones that are suffering the most during America's labor shortage. Meanwhile, remote industries and flexible businesses are seemingly thriving, leading to the question of whether it's a labor shortage or people just prefer to work remotely.
There is undoubtedly some kind of shortage, but remote industries could be amplifying the issue by offering flexible hours and allowing people the freedom to work from anywhere, dressed any way they want, as and often even choose their own hours.
Copyright 2021, UnitedHeadlines.com