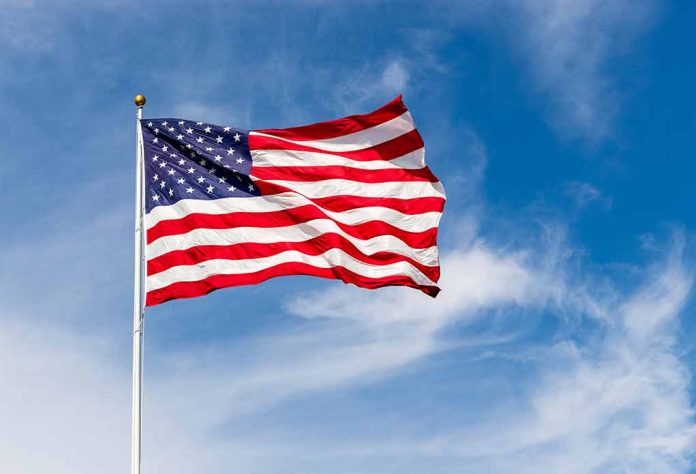 (UnitedHeadlines.com) – Olivia Dunne, 20, put her patriotism on display after she attended a NASCAR Cup Series race at Nashville Superspeedway.
The star LSU gymnast posted a video to social media saying her pronouns are "USA" while standing next to two U.S. Army soldiers. The video has more than a half million likes and more than four million views on just TikTok. On TikTok, Dunne has 7.6 million followers, while on Instagram she has 4.2 million followers. On social media, Dunne is one of the most followed college athletes.
Dunne, who attended the Ally 400, also attended Parker McCollum's pre-race concert.
Dunne, who was a VIP at the race, posted a photo from before the race of her in a headset saying "Start your engines…" She watched the race start from Ryan Blaney's pit box.
A photo of her with NASCAR driver Chase Elliott was also shared by NASCAR which said, "Welcome to NASCAR @livvydunne!" Elliot responded to the post by saying "Thanks for stopping by." Dunne stopped by to wish Elliott good luck before the start of the race.
Dunne was also seen signing autographs for fans at the racetrack.
A 2023 Sports Illustrated Swimsuit model, Dunne makes more than any other female collegiate athlete for her endorsement deals. In an April Instagram post on Sports Illustrated's page, Dunne stated being a swimsuit model for Sports Illustrated is a "dream come true."
She made a stop before the weekend NASCAR race in Omaha, Nebraska, to support the LSU team in its double elimination round of the College World Series. LSU took on Wake Forest, coming out on top. After the NASCAR race, Dunne traveled to watch the LSU team in action again, taking on Florida. LSU went on to win the game, 18-4, taking home their seventh national championship. Dunne was seen on social media also supporting the LSU basketball team earlier in the year during its run for a national championship.
Copyright 2023, UnitedHeadlines.com