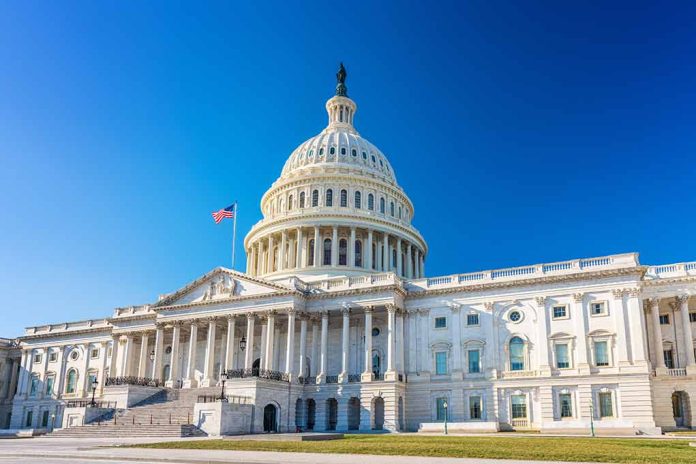 (UnitedHeadlines.com) – On May 26, while on a trip to the United States Capitol, the Rushingbrook Children's Choir was stopped while singing The Star-Spangled Banner. A video of the children's choir from Greenville, South Carolina, being stopped from singing has gone viral.
The children's choir first toured the Capitol, stopping at South Carolina Rep. Joe Wilson's office for photos, then continued their tour, which ended in Statuary Hall, which contains statues donated by each of the 50 states. Then the choir began performing.
The video shows the children singing while a Capitol Police officer speaks with two men, choir leader Micah Rea, and a congressional staff member. The Capitol Police officer then approaches choir director David Rasbach, who motions to the choir to stop singing a few seconds later.
According to Rasbach, the Capitol Police stated they were stopping the choir because the singing was "considered a demonstration," which is not allowed in the Capitol.
Rasbach also stated that a Capitol Police officer had told him there were concerns people might be offended.
According to a statement from the Capitol Police, the officers actions were a result of a miscommunication. In order to hold a musical performance in the United States Capitol, a group must have permission.
However, the children's choir had been granted approval to perform in the Capitol by South Carolina's representatives Russell Fry, Wilson, and William Timmons, with final approval coming from House Speaker and California Rep. Kevin McCarthy. According to the Capitol Police, they were unaware the choir had also received permission to perform.
The statement by the Capitol Police also stated the congressional staff member accompanying the choir "lied to the officers multiple times" about the choir already having the permission from various offices needed to perform.
McCarthy and three South Carolina representatives issued a statement saying the choir had been welcomed "joyfully" and they were "disappointed to learn their celebration was cut short."
South Carolina State House Rep. Adam Morgan also said the chance that singing the National Anthem in the Capitol could be "offensive" shows the challenges we face as a country.
Copyright 2023, UnitedHeadlines.com