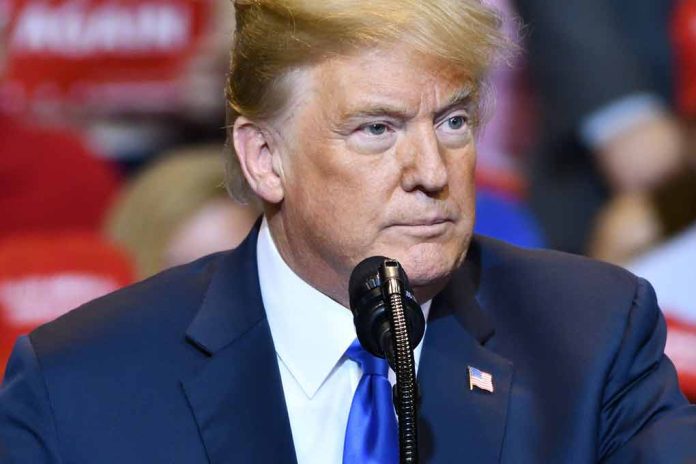 (UnitedHeadlines.com) – After being stopped from singing "The Star-Spangled Banner" at the Capitol in May, the Rushingbrook Children's Choir was able to finish the song this time during a rally for former President Donald Trump.
The performance by the Greenville, South Carolina choir during a June 30 rally for Trump in Pickens, South Carolina, brought the audience to its feet. Trump had called the actions against the choir in May "a shame" and invited the choir to the rally to share their talent with "tens of thousands of people."
Choir director David Rasbach said it was "an honor" to be asked to perform at the rally, and he would not "even think of turning him down."
On June 5, the choir also performed "The Star-Spangled Banner" live on Fox Carolina.
During the choir's May tour of the Capitol, a Capitol Police officer is seen on video speaking to choir leader Micah Rea and a congressional staff member after the children began singing in Statuary Hall. The officer approached Rasbach saying the "demonstration" wasn't allowed, adding that some people were offended. Rasbach then motioned to the choir to stop singing a few seconds later.
South Carolina Rep. Joe Wilson, South Carolina Rep. William Timmons as well as House Speaker and California Rep. Kevin McCarthy had given the children's choir permission to perform. Capitol Police stated they were unaware the choir had received permission. All three representatives issued a statement saying they were "disappointed to learn their celebration was cut short."
Wilson, along with Timmons, Rep. Russell Fry, Rep. Nancy Mace, Rep. Ralph Norman as well as Rep. Jeff Duncan, filed a bill to ban regulations that prohibit the signing of "The Star-Spangled Banner" in the Capitol as long as it does not interfere with the operation of the government. The "Let Freedom Sing Act" does not mention the incident but does mention the hall where the incident occurred.
Copyright 2023, UnitedHeadlines.com