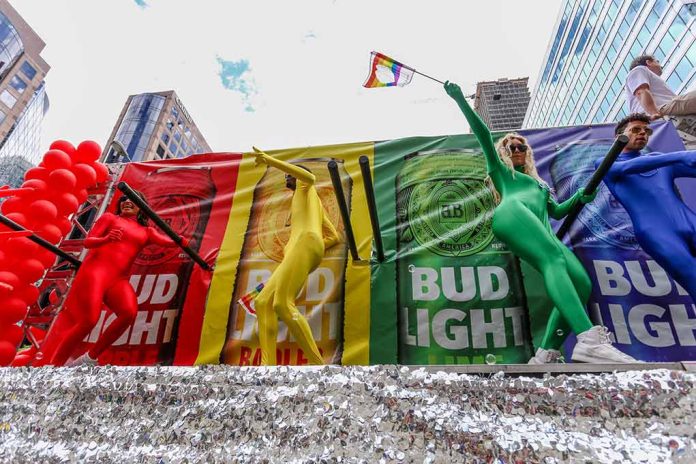 (UnitedHeadlines.com) – As the boycott of Bud Light continues to cause sales to decline for a sixth straight week, the company has made the decision to sponsor the Cincinnati Pride Parade.
The Pride Parade, which will be held June 24, lists Anheuser-Busch as one of its sponsors. Under the headline "Together in Pride," a rainbow-colored bottle of Bud Light is pictured on the page next to a glass of beer.
Since April 1, sales of Bud Light, as well as other Anheuser-Busch products, have declined for six straight weeks, after transgender influencer Dylan Mulvaney shared partnership posts with her and Bud Light with the 11 million followers of her social media accounts. The post, which featured the hashtag #budlightpartner, included Mulvaney drinking from a custom Bud Light can featuring her face while sitting in a tub.
Since the boycott began, the market value of Anheuser-Busch has declined by $15.7 billion. Anheuser-Busch has disavowed the ad and insists it was 'not a campaign,' but that it was approved by an outside agency without Bud Light's approval. According to Anheuser-Busch, the can was not intended to be sold, and that the marketing firm was fired.
Both Bud Light's vice president of marketing Alissa Heinerscheid and Daniel Blake, the head of marketing for Anheuser-Busch's mainstream brands, have taken a leave of absence since the controversy began.
An apology, titled "Our Responsibility To America" was offered by Anheuser-Busch InBev CEO Brendan Whitworth. However, critics said it was not enough.
In an effort to win back customers, Bud Light has offered rebates that make a case of beer almost free, however, sales are still declining as the summer season kicks off. The company has also released commercials to try to win back customers that feature country music, football, and the Clydesdale horses.
Kroger, Planned Parenthood, and Toyota are also listed as sponsors of the Cincinnati Pride Parade.
Copyright 2023, UnitedHeadlines.com