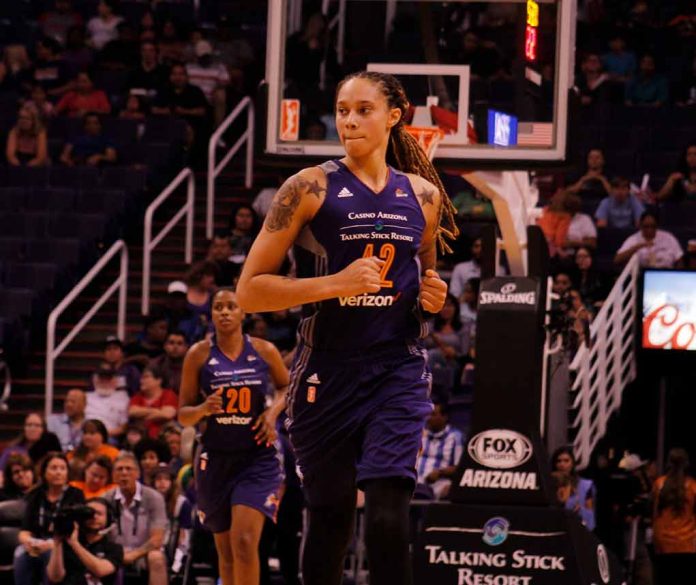 (UnitedHeadlines.com) – After years of protesting the national anthem, WNBA player Brittney Griner stood for the national anthem before the May 19 game between the Phoenix Mercury and the Los Angeles Sparks.
On May 19, her sports rep also published an op-ed that explained why she would now be standing for the national anthem and explained Griner would make a statement regarding "American freedoms." However, after the game, Griner spoke out about her decision to stand before what was her first regular season game since she was released from a Russian prison.
She said, "It just means a little bit more to me now," and that she wants to be able to stand after not being able to stand in the Russian prison, which she described as a cage. Being able "to hear my national anthem, see my flag" means more to her after her experience. She also said she "appreciates everything a little bit more."
The stance is opposite her decision from July 2020, when the Phoenix Mercury star spoke out against the national anthem. At the time, she took to the mics in support of the anti-anthem movement. She stated she believed that WNBA should not play the national anthem at all and that she would not be on the court when it was played.
Just before Russia invaded Ukraine, in February 2022, Griner was arrested after vaping canisters with cannabis oil were discovered in her luggage at Moscow's Sheremetyevo Airport. A Russian court convicted her of drug possession. She was then sentenced to 10 years of hard labor. She spent 10 months incarcerated in Russia. In December, the Biden administration agreed to a prisoner exchange to get Griner home, releasing Viktor Bout, a convicted Russian arms dealer whose nickname is "the merchant of death."
Upon her return to the U.S., Griner signed a new contract with the Phoenix Mercury for the 2023 season.
Copyright 2023, UnitedHeadlines.com